Cruise News
Read our monthly Cruise News to stay up-to-date on the latest cruise industry news in Alaska.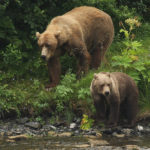 Spotlight Alaska
LEARN MORE
Cruise industry continues to work hard toward a safe return to service
Just months ago, the visitor industry was anticipating a banner year for Alaska. Projections showed an anticipated peak season of 52,000 jobs, with a total economic impact of over $4.5 billion. As our communities were preparing to welcome visitors, COVID-19 put a screeching halt to life as we know it.
With 408 cruise voyages canceled to date, we understand the impacts are severe, especially for the many Alaskans, local businesses and communities that depend upon visitor industry spending. This is an unprecedented time and we know this is extremely difficult on our industry partners, who are all vital to this industry.
As much as we look forward to resuming operations, our No. 1 priority is and always will be the health and safety of people. That means protecting our passengers, crew and the communities we visit, which is why we are utilizing this time to work with governments and prevailing health authorities, including the Centers for Disease Control and Prevention, to strengthen our protocols and polices and go even further in our efforts to protect the public health.
As top medical experts learned more about this new disease, the industry worked to ensure our policies reflected the best medical guidance. Immediately after the Jan. 30 public health emergency announcement, the cruise industry implemented travel screening measures denying boarding from those who traveled to impacted areas. As medical professionals observed community transmission in new areas, the industry responded by further strengthening these measures, including the addition of health screening, and checking for key symptoms. In mid-March, the WHO declared a global pandemic as consensus formed in the medical community that asymptomatic people can transmit COVID-19. The cruise industry again responded, becoming one of the first industries to announce a voluntary suspension of service.
We know now that COVID-19 can affect any setting where people come together and enjoy shared experiences. To ensure we continue to have the best health policies, we are focused on developing more stringent boarding procedures, additional onboard public health and sanitation protocols, monitoring capabilities, quarantine arrangements and shoreside care for guests and crew. Preparing to sail will require a lot of work and potentially significant investments in new technologies.
While the efforts currently underway will address many questions and concerns, it is important we earn the support of local communities and ensure they are comfortable opening their ports to cruise travel when the time is right. We look forward to engaging the State of Alaska and our communities on this effort.
In the meantime, we remain grateful our entire community is coming together to support one another through this challenging time. It is this strength and partnership that truly lends itself to the resilience of this industry, and it is why we are confident we will return, stronger than ever.
When it's safe, visitors will once again experience the amazing people, culture, history and natural beauty of our wonderful state, re-energizing our economy and supporting the local businesses and people who make Alaska such a special place to live and visit.
Mike Tibbles is Vice President, Government & Community Affairs for Cruise Lines International Association, Alaska.