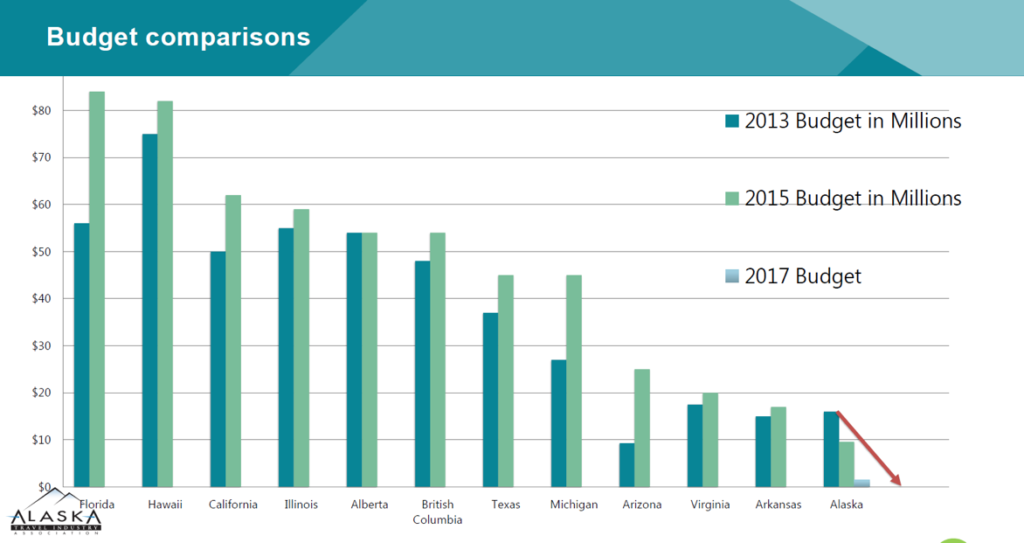 While the state's fiscal crisis has touched most everyone in Alaska, tourism has been hit particularly hard.
The FY17 statewide tourism marketing budget of $1.5 million is down from $18 million in 2013. Alaska, a top destination world-wide and on the bucket-list of young and old, is now being outspent by 48 other states. Travel forecasts for this coming summer are high, but those are based on marketing dollars spent years ago when the budgets were full and the ads were running.
This year: no ads. No commercials, no television, no print. No printed vacation planner. Alaska is the only state in the U.S. that will not produce a print travel planning tool for statewide tourism marketing.
But the industry has come up with a solution: self-imposed assessments on visitor spending through a Tourism Industry District (TID). TIDs are similar to Special Assessment Districts or Business Improvement Districts (BID). BIDs affect and benefit those in a particular geographic area, like the one in downtown Anchorage. In Alaska, the TID would first include accommodations and tours/activities/attractions.
The Alaska Travel Industry Association (ATIA) presented the idea to the legislature last month and expanded on it recently at presentations to its membership and the Resource Development Council of Alaska.
As proposed, the state would collect the assessments and use the money for marketing efforts managed by an industry-led marketing board. Unlike a tax, which cannot by state statute be appropriated to any one benefactor, an assessment must be used to benefit those who paid in.
ATIA believes that statewide tourism marketing should be a partnership between the State and industry and be robust enough that Alaska remains competitive with the world. Many states, countries and unique locations vye for traveler dollar. Remaining front-of-mind and a top choice is critical to the stability of the industry.
In Juneau, ATIA was recognized for bringing a solution to the budget issues and seeking to open dialogue about implementing a TID in Alaska. The presentation used a 1 percent assessment on the two industry segments (accommodations and attractions), along with a state-provided portion of the vehicle rental taxes already collected. Together, the projected revenue falls between $6 and $10 million in the first year.
This is the first step in a growing conversation at the state level. State Senators Mia Costello (R), Pete Kelly (R) and Kevin Meyer (R) have pledged their support legislation that would provide a framework at the state level for the TID discussions to continue. More research into specifically how the assessments would be applied, and on whom, along with the management of the funds are all on the table.