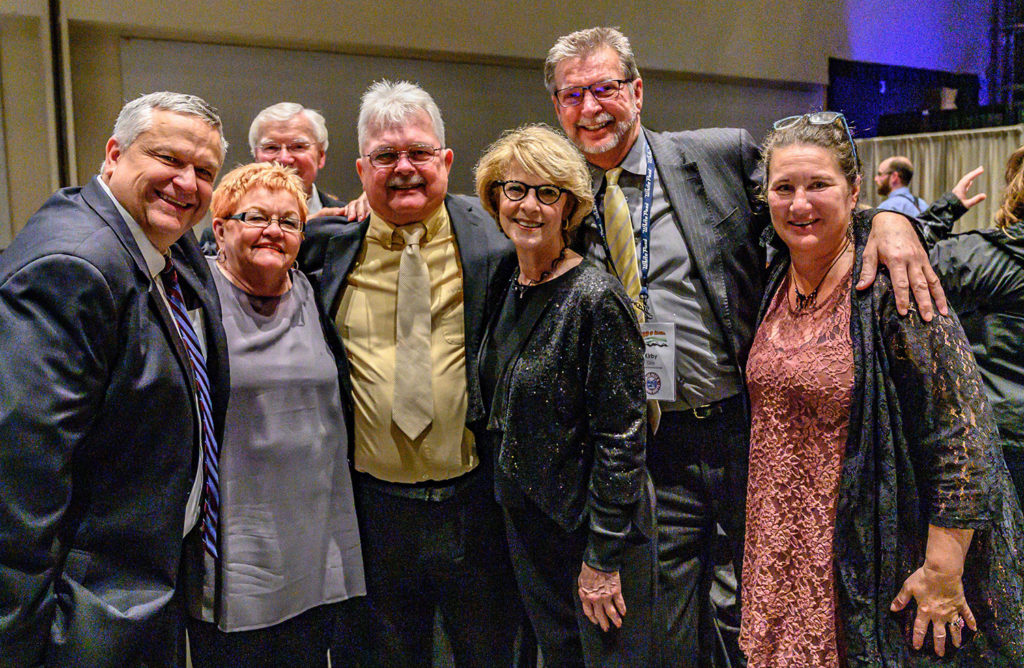 Our very own Kirby Day received a special recognition award at this year's ATIA Conference. Kirby is the long-time Director of Shore Operations for Princess Cruises who originated the very successful Tourism Best Management Practices in Juneau. He was named Citizen of the Year by the Juneau Chamber of Commerce in 2018.
Edeltraud Sommer also received a special recognition award. Edeltraud has acted as a liaison between Alaska and Germany for many years and has been crucial in bringing the German-speaking European market to Alaska.
The special recognition award is granted periodically to an individual or business who has made substantial contributions to the tourism industry in Alaska. The recognition may be due to the individual's personal efforts on behalf of the industry or through the efforts of a tourism-related businesses that have positively enhanced Alaska tourism and travel.
Lifetime Achievement Award – Two long-time Alaskans, John Litten and Sam Kito Jr., were selected for Lifetime Achievement Awards. John owned Sitka Tours for more than 37 years. Sitka Tours is a transportation company that has been serving visitors to Sitka since the late 1960s. Sam Kito II has been involved in public affairs, Native issues and education for most of his life. Since 1977 he has been President of Kito, Inc., a lobbying firm representing many clients in the visitor industry.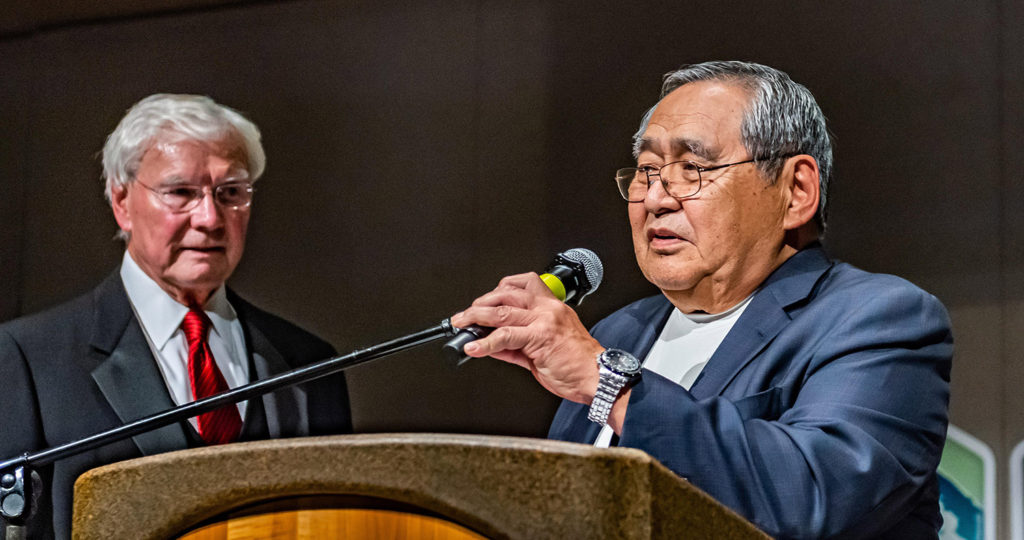 Stan Stephens Stewardship Award – Denali Education Center, a nonprofit partner of the National Parks Service, won this award. The center's mission is to develop an appreciation and educate individuals on Denali National Park through informative programs. Their campus is on 10 acres, with 12 guest cabins next to the Nenana River.
This award commemorates the passion and dedication that Stan Stephens lived by in his commitment to safeguard a place he loved dearly. Stan was a meticulous steward of Prince William Sound and after the Exxon Valdez oil spill, publicly declared that he would dedicate the rest of his life to making sure the area was protected. Recipients of this award, like Stan, have worked nobly and passionately over time to protect a place or resource or pursue a just cause that greatly benefits all of us in travel and tourism. The award is only presented during years when a qualified recipient has been nominated.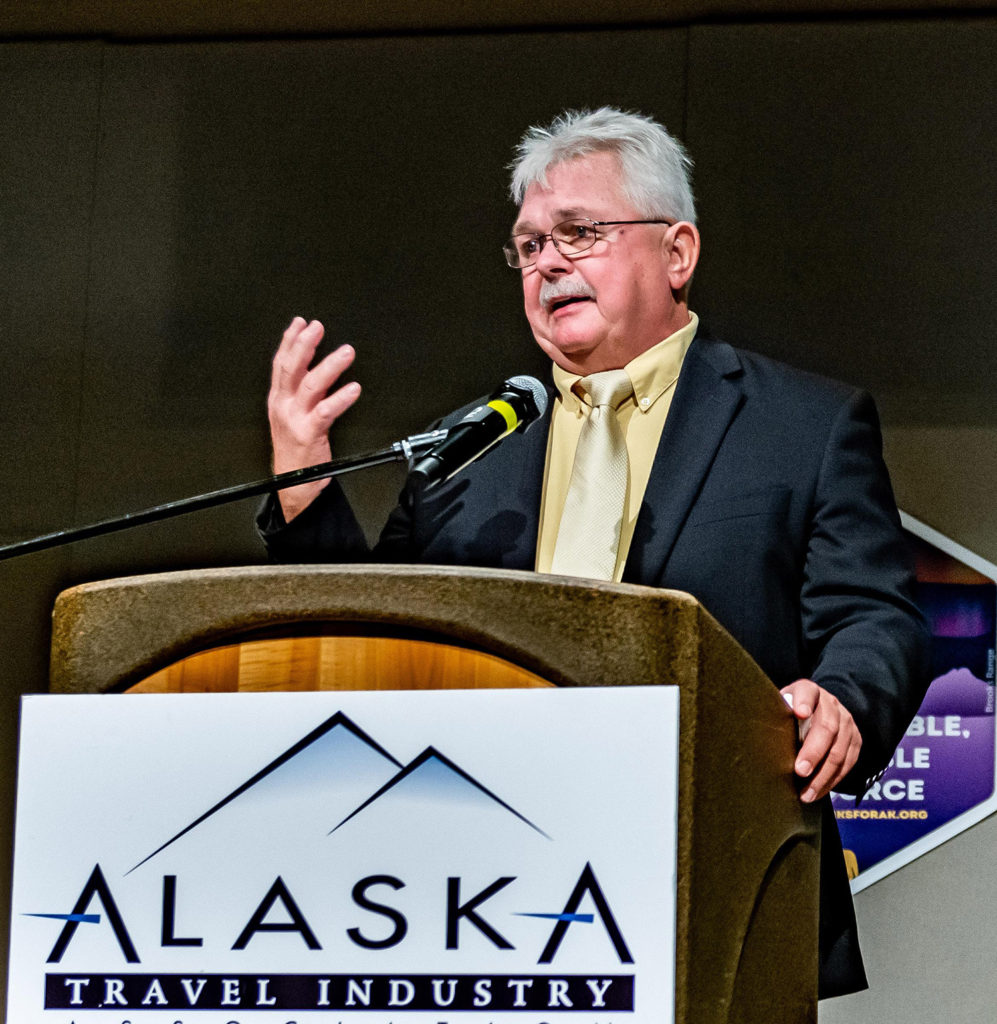 Other honorees include:
Aurora Award – The Aurora Award went to Katie Caswell, who is the director of incentives, events and operations at Logistics LLC, where she has worked since 2007. Katie currently serves as the president of the ATIA Anchorage Chapter Executive Committee.
This award recognizes an emerging leader who demonstrates excellence, creativity and initiative in his/her profession. Nominees must work in Alaska tourism year-round and be younger than 35.
The Alyeska Award is presented to a business or organization for its outstanding leadership, professional excellence and group contribution to the Alaska travel industry. The Alaska Raptor Center in Sitka is this year's winner. The center provides medical treatment to about 200 injured birds each year. Its mission is to rehabilitate injured birds, educate the public and conduct bald eagle research.
Chuck West Award – Big Swig Tours of Anchorage operates on a simple philosophy: Drink good beer with good friends. They offer a variety of brewery tours around southcentral Alaska and received this year's Chuck West Award. This award is presented to a new pioneer in the industry who has exhibited entrepreneurial creativity, innovation and courage in the introduction of a successful new product for the benefit and enjoyment of Alaska's visitors.
Denali Award – This award is presented to an individual for his or her outstanding leadership, professional excellence and personal contribution to the Alaska travel industry. This year's winner is Dennis McDonnell, who has been with Alaska Coach Tours for over 15 years. Since 2014, he has held the title of president. He and his company have been critical in streamlining the cruise ship visitors' experience in Alaska.
Spirit of Alaska Award – Jennifer Thompson, president and CEO of Thompson & CO for more than a decade, received the Spirit of Alaska award. Jennifer has been recognized by PR News as one of the "Top 50 Women in PR." She is a member of the Anchorage Athena Society and a board member of the Public Relations Society of America's Counselors Academy.
This award is presented to an individual or business who has demonstrated exceptional efforts to support a local community, charity or other organization outside the travel industry.
While not a standing annual award, this recognition is conferred upon individuals who have demonstrated lifelong support of and leadership in Alaska tourism, promoted industry standards of excellence and contributed to the industry's growth as a whole.