Attention 7th and 8th grade Juneau students!
Now is your chance to win a pizza party and race
go-karts

with your friends on the Norwegian Bliss
Twenty-five middle school students will win a visit aboard the biggest cruise ship to ever visit Alaska, where they can enjoy a pizza party and race go-karts on the largest go-kart track at sea.
Cruise Lines International Association Alaska (CLIA Alaska), Travel Juneau and Norwegian Cruise Line have partnered to help students learn more about the positive things the visitor industry brings to our community. Students willing to learn and show off their knowledge by writing a short essay will have a chance to visit the brand-new Norwegian Bliss.
The Norwegian Bliss is 1,082 feet long and carries more than 4,000 passengers and a crew of 1,716. Unique to the Bliss is its two-level, almost 1,000-foot-long, go-kart track, where you can race at speeds of up to 30 mph. Read more about the Norwegian Bliss.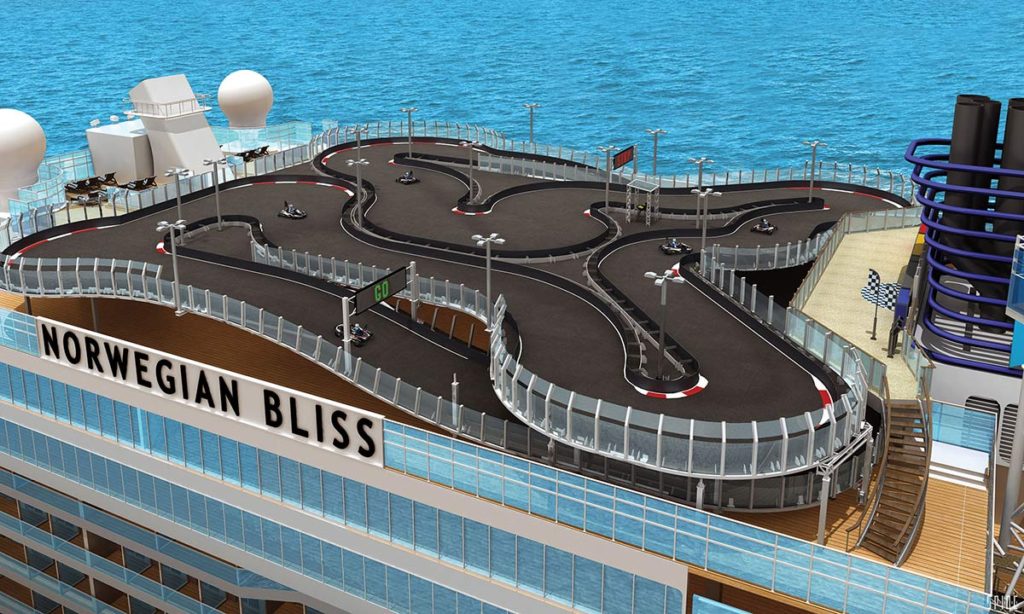 Who's eligible?
The contest is open to 7th and 8th grade students in the Juneau School District.
The Essays
Essays should be about 250 words and focus on how the tourism industry benefits our community (number of jobs created, revenues to the city, business opportunities, etc.). There's information to get you started on the back side of this flyer, along with a link to additional information.
Acceptable essays will communicate the positive ways the visitor industry benefits our community, friends and neighbors. Be sure to use proper grammar – and be creative.
There are two chances to win:
A select number of exceptional essays will receive an instant win
All other essays successfully completing the assignment will be entered into a drawing
The Prize
Twenty-five students will be selected to board the Norwegian Bliss on Tuesday, June 26, 2018, where they will go on a short tour before racing the go-karts. Pizza will follow. Students will need to leave the ship by noon so the crew can prepare it for a 1:30 p.m. departure.
Note: There is a minimum height restriction of 48" (four feet) to ride the go-karts, and students should be in good physical health and comfortable operating a fast-paced vehicle. No rescheduling or substitutions allowed. Students need to be dropped off and picked up at the AJ cruise ship dock downtown and must bring their documentation of winning.
How to Participate
Submit your completed essay to your Advisory Teacher in participating classes by May 14, 2018. All essays must include your name, name of your school, name of your current Advisory Teacher, name of parent or guardian and phone number. Essays may also be submitted via email to mtibbles@cruising.org. Winners will be selected and notified by May 21, 2018.
Visitors help make Juneau a great place to live
The visitor industry is not only a critical component of Juneau's economy
– it's a big reason why our community is so vibrant.
In 2016, Juneau greeted 1,093,000 visitors
93% came to Alaska aboard a cruise ship
6% arrived via airplane
1% arrived via ferry
The visitors added $238 million to our economy
These dollars create 1,000s of jobs
Pilots • Mechanics • Business Owners • Managers • Entry-Level Positions
Some jobs supported by the visitor industry might surprise you:
Engineer • Architect • Biologist • Health Care Professional
The visitor industry is one of the biggest taxpayers in town
That means support for our community year-round, including:
Eaglecrest • Treadwell Ice Arena • Parks
And it's expected to keep on growing
20% growth from 2017 to 2019
That's more jobs and more revenue for our community
Research Material:

Economic Impact of Alaska's Visitor Industry
McDowell Group Economic Impact Study, Oct 2017
About the Bliss
Ship Class: Breakaway Plus
Godparent: Elvis Duran
Passenger Capacity: 4,004 (double occupancy)
Passenger Decks: 20
Entering Service: April 2018
Registry: Bahamas
Gross Register Tonnage: 167,800
Number of Decks: 20
Overall Length: 1082 feet
Max Beam: 136 feet
Draft: 27 feet
Engines: Diesel Electric
Cruise Speed: 22.5 knots