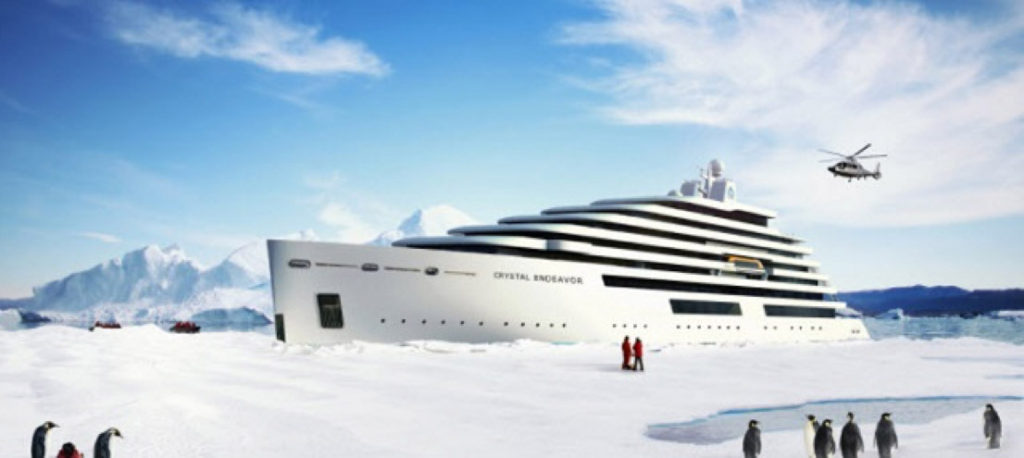 Crystal Cruises will not be sending Crystal Serenity along the Northwest Passage in 2019, and in the future, the route may be taken by another, smaller vessel.
Crystal Serenity first made the voyage in 2016 and last month finished her second.
"We will be returning to the Northwest Passage at a future date with our new expedition ship, Crystal Endeavor, which will be a polar-class vessel," Crystal Cruises spokeswoman Susan Robison told Alaska Dispatch News.
Measuring 600 feet (183 meters) long, the 25,000 gross ton new-build with 100 guest suites is claimed to be the largest and most spacious mega-yacht afloat. With a PC6 Polar Class designation, she will be able to cruise in polar regions during the summer and autumn in medium "first year ice which may include old ice inclusions." Delivery is expected in August 2018.
Crystal Endeavor will be able to carry about 200 passengers, significantly less than Crystal Serenity's 1,000. The company said that a smaller vessel would be give more itinerary flexibility, as it is hard to get a bigger ship into some areas.
During the planning stages for Crystal Serenity's first voyage, the line faced criticism over their plan to use such a large vessel. Concerns were raised about the potential for accidents, effluent release and the ability of the small local population and limited infrastructure to deal with the influx of tourists.
Crystal also faced industry concerns about the safety of using a non-ice-class cruise ship. Crystal Serenity sailed from Alaska, through the Canadian Arctic to Greenland and then New York, the first large luxury cruise vessel to navigate the route, with the vessel maneuvering through 900 miles of waterways lined with glaciers and fjords north of mainland Canada. As a precaution, the vessel was fitted with ice navigation equipment. She was also accompanied by an escort vessel, the Antarctic research ship Ernest Shackleton.
The 2016 Crystal Serenity voyage sold out quickly, but her 2017 cruise was only 80-90 percent full. At 32 days, the Northwest Passage cruise is one of the longest offered by Crystal. It's also one of the most expensive, with fares ranging from around $20,000 to over $120,000 per person.
Source: The Maritime Executive