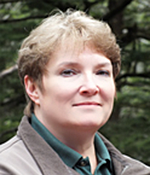 Briefly describe business:
We are a raptor rehabilitation center dedicated to helping Alaska's wild birds. We also offer educational tours to Sitka's visitors, most of whom arrive by cruise ship.
When did you first become involved in the visitor industry?
I have been working with the visitor industry in Alaska, in some capacity, for 27 years.
How is your business affected by the cruise industry?
Most of our visitors arrive by cruise ship. Our summer revenue comprises 50 percent of our budgeted revenue. Our memberships and donations comprise another 37 percent and approximately 95 percent of our members have come to us from cruise ship traffic. We receive no government funding, so the cruise industry is crucial to our survival and our ability to carry out our mission of helping these birds year round.
How did you get your start with cruise industry?
My husband and I used to own a small laundry and dry cleaner here in Sitka, and we provided drop-off laundry service for the small ships that came here. From there, I came to the Alaska Raptor Center in 2002, and now I get to work with the passengers from all of the ships!
What's the best part of your job?
Sharing what we do with our visitors.
What's your favorite cruise passenger story?
I don't have a favorite story, but I really enjoy working with our visitors! Having the privilege of introducing them to an American bald eagle, up close, and talking about that bird and the rest of the birds here is the best!
What should Alaska do to better support/protect visitor/cruise industry?
We need to provide a more welcoming attitude! We also need to keep the pressure on the federal government regarding EPA rulings that have little or no impact on the environment, but have a large impact on the industry and our economy. We also need to do a better job of educating the citizens of Alaska so that some of our extreme environmental groups will not be afforded so much credibility on some of these issues.