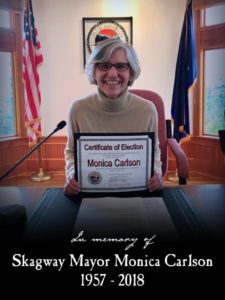 There was a celebration of life for the late Monica Carlson April 28 at the Skagway School gym where residents came and paid their respects to the Carlson family and remember the former mayor.
"Monica was a pillar of this community and somebody countless people saw every day," Mayor Andrew Cremata said.
"The loss of Monica Carslon is heartbreaking to her family, to her community and to humanity. She was very skilled at her many roles and, through them all, she always cared about people. She was a wonderful human being who contributed to making us all better," said John Binkley, president of CLIA Alaska, following her death.
A Skagway resident of 34 years, she also worked as Director of Tour Operations for the Skagway Streetcar Company. Carlson was Skagway's second female mayor and beat the two-time incumbent mayor as a write-in candidate in 2017. She had one year left in her term. Carlson served on the assembly before she served as mayor.
Carlson and her mother, Cora Adams, were struck by a bus and killed while visiting Washington, D.C., in December. Both were taken to the hospital where they died of their injuries.
Carlson is survived by Robert, her husband of 34 years, and her son, Maxwell, a U.S. Marine serving in Florida. Carlson and her husband lived in Skagway since 1988.
Source: Skagway News