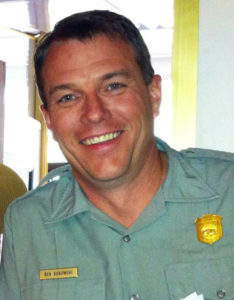 Many projects underway to improve nation's largest park
How has the 2016 tourist season been for the park?
We've had a great 2016 season at Wrangell- St. Elias National Park and Preserve! We served over 85,000 visitors as we celebrated the National Park Service Centennial. This was an increase from last year and has been the trend for a few years now.
Is there a memorable story that has happened at the park this season?
On August 25, we celebrated the National Park Service Centennial in our park. We joined parks nationwide to celebrate. We provided several special programs that showcased the history of the NPS, some of our new projects being developed, such as new Kennecott Mines National Historic Landmark Exhibits. We shared cake and ice cream with over 400 visitors as we discussed looking forward to the next 100 years. It was great to see the enthusiasm in our visitors and employees alike.
What's the biggest challenge facing the park?
This may sound cliché, but I really don't think in terms of challenges near as much as I do opportunities. As being new to the park and the area, I've had great opportunities since I've arrived to meet with numerous park neighbors, community members and visitors to the park. Although I have many more people to meet, it is clear that folks are passionate about the park and genuinely care about its magnificent landscapes, wildlife, as well as its solitude. As the NPS' largest national park and wilderness, I'm looking forward to a shared dialog among the diverse and widespread communities that live, work and play near and within the park.
What has been the biggest event surrounding the 100 year birthday of the NPS?
We worked on a year-long outreach to our "digital visitors" to help inspire and educate about Wrangell St.-Elias National Park & Preserve. We instituted a "Countdown to the Centennial" on our social media platforms starting in May. Each day we posted news, photos, inspiration and information about the park to help broaden our virtual visitors' understanding and appreciation for the park and the NPS Centennial.
What projects do you have coming up?
We're working on a number of projects at any point in time. For example, we're engaging the public on a Backcountry & Wilderness Plan; we're actively restoring the Kennecott Mines National Historic Landmark and developing new exhibits; we're making significant improvements to the Copper Lake Trail; we're revising several of our trail signs around the Copper Center Visitor Center, managing invasive exotic plants and providing outreach and education for local and regional school children. This is just a snapshot of projects and activities we will continue to be working on in 2017.
Tell me a little bit about yourself.
I currently serve as the superintendent of Wrangell- St. Elias National Park and Preserve. I arrived in August after serving as the interim superintendent of Rocky Mountain National Park 2015-16. Prior to that, I served as chief of resource stewardship of Rocky Mountain National Park 2007-2015; chief of resource management at Grant-Kohrs Ranch National Historic Site (2002-2007), and a range ecologist at Glen Canyon National Recreation Area (1998-2002). I began my National Park Service (NPS) career in 1998 as a student and completed graduate work at Utah State University. Prior to my NPS career I served as a wildlife biologist for the U.S. Forest Service Starkey Experimental Forest in Oregon and also as a port securityman in the U.S. Coast Guard Reserve.
I earned a Bachelor of Science Degree from Rutgers University focused on Forestry and Wildlife Management and Masters of Science and PhD degrees from Utah State University, focused in Range Science.
Why were you interested in working at a national park and how did you get started?
My family and I have been coming to Alaska since 2006. We've enjoyed everything from exploring with binoculars to fishing many of the inland and coastal waters during each trip. During an extended visit in 2014, we had a family discussion resulting in agreement that if the right opportunity presented itself in Alaska, I would apply. A little more than a year after our discussion, the opportunity to serve at Wrangell-St. Elias National Park & Preserve presented itself. We feel grateful to be here.