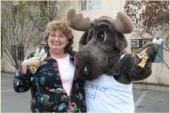 Buzzy Chiu, general manager of the Bridgewater Hotel in Fairbanks, is a true "people person." A member of the Fairbanks Convention and Visitors Bureau Board of Directors and the Downtown Association board, her favorite part of the job is getting to know her guests. Buzzy sat down with ACA to talk about her work with the cruise industry in Alaska's Interior.
Briefly describe business:
The hotel is a seasonal property, part of the Fountainhead Hotel Family.
When did you first become involved in visitor industry?
In 1992 with Westmark Hotel.
How did you get your start with the cruise industry?
Through my job with Westmark, which is owned by Holland America.
What's the best part of your job?
Definitely the guests. I like the interaction and to be out there with them. I'm not an office person.
What's your favorite cruise passenger story?
There was a big Holland America group and something happened with the train, so they had no luggage. I went out and bought them all toothpaste and stuff to use. This next morning I bought them donuts, and we brought up more chairs from the dining room and had a big donut and coffee party in the lobby.
What should Alaska do to better support/protect the visitor/cruise industry?
There should be good infrastructure in the communities so there is plenty of stuff to do. We've made a start. Also, to make sure they feel welcome and make it easy, not costly for them.