Developing Sustainable Practices
As demand for cruising experienced substantial growth over the past 10 years, the cruise industry recognizes its responsibility to develop innovative and respectful tourism practices.
To that end, cooperation and collaboration are goals of the cruise industry in Alaska. Working together to create opportunities and benefits to the ports we call on – and keeping the state a great place to visit – and a great place to live.
Planning a Green Corridor for Alaska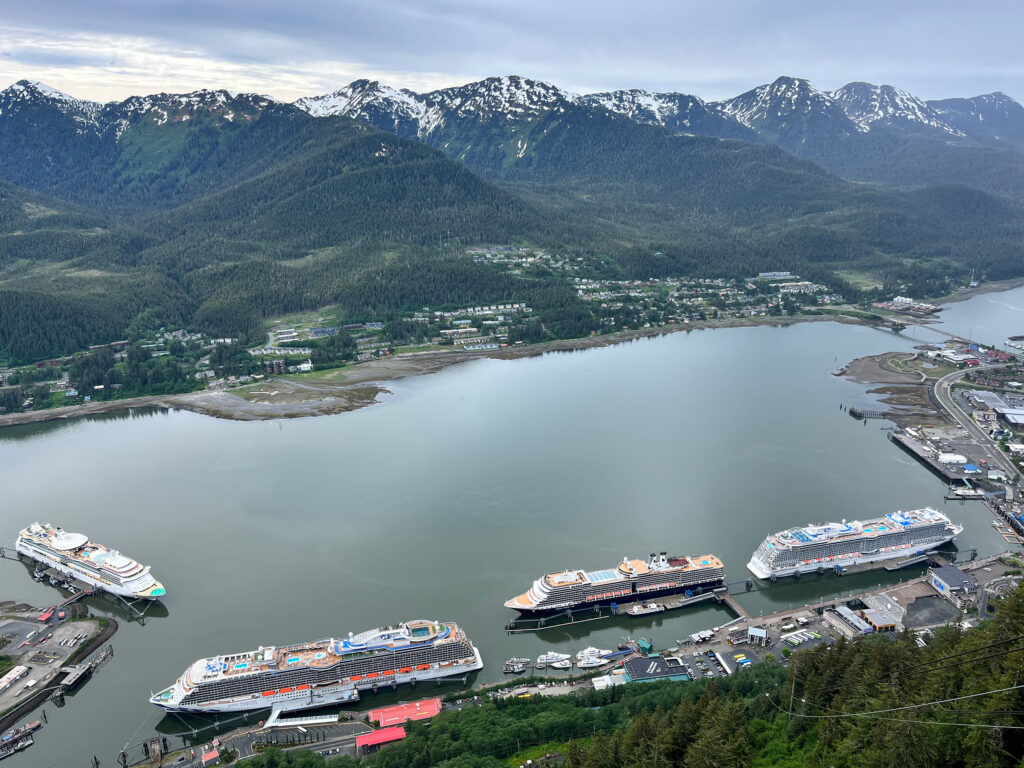 Industry and ports along the Pacific Northwest from Seattle to Juneau have agreed to explore one of the first green corridors for shipping called the First Mover Commitment.
The collaborative effort is aimed at exploring the feasibility of a green corridor that could accelerate the deployment of zero greenhouse gas emission ships and operations between Alaska, British Columbia and Washington.
Using alternative fuels, establishing green infrastructure in ports and investing in developing emissions-reducing technologies are among the efforts that will be part of the feasibility study, according to Alexandra Pierce, Juneau's tourism manager.
"This is a really positive opportunity for collaboration, and a really positive opportunity to help other ports start thinking about their long-term plans, and what their infrastructure and needs might be for this green corridor," she said.
Pierce added: "We were the first port in the world to have shore power and I think it is appropriate we're the first to have this too."
The concept for green corridors that would demonstrate and support the development of zero greenhouse gas emission solutions was advanced at the COP26 conference in Glasgow in November 2021 when 24 countries, including the United States and Canada, signed the Clydebank Declaration committing to supporting the establishment of at least six green corridors by 2025. The premise is that through collaboration across sectors the organizations as leaders will create the technological, economic, and regulatory feasibility needed for zero greenhouse gas emission ships to succeed.
"As maritime routes that showcase low- and zero-emission lifecycle fuels and technologies, Green Shipping Corridors offer a pathway for the collaborations needed to achieve the critical projects and actions for accelerating innovations to achieve zero greenhouse gas emissions," said Jennifer States, Vice President of Strategies and Projects for Washington Maritime Blue, one of the organizations supporting the initiative. "Cruise vessels and the associated charging/fueling infrastructure can provide key demonstrations for new technologies, paving the way for additional vessel types and broader collaborations."
First Mover partners include the Port of Seattle, City and Borough of Juneau, Vancouver Fraser Port Authority, along with Carnival Corporation, Norwegian Cruise Line Holdings, Royal Caribbean Group, and Cruise Lines International Association, with the support of the Global Maritime Forum, Blue Sky Maritime Coalition, and Washington Maritime Blue. The communities of Sitka, Skagway, and Haines and the Greater Victoria Harbour Authority have also joined the partnership