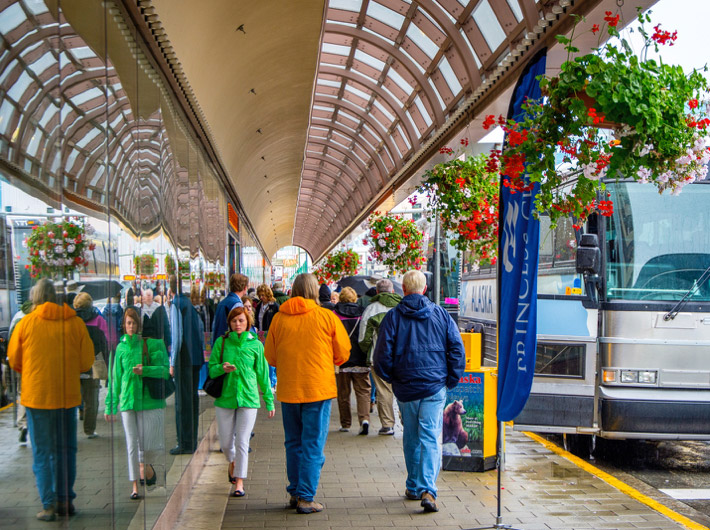 Leisure travel continues to be a bright spot in Alaska's economy, and 2019 is slated to follow an upward trajectory. This, according to Visit Anchorage president and CEO Julie Saupe, is a result of refocused efforts to make Alaska a great place to visit and live.
"Developing the destination can be as important as spreading the word about it," according to Saupe. "And building a place travelers like means creating a better place for residents."
An upcoming project will put solar panels on the roof of the Egan Center, modernizing the often-used space while also cutting costs.
Anchorage residents are greatly outnumbered by the number of tourists it greets annually. Recent numbers presented by Visit Anchorage show an almost 3:1 ratio of tourists to residents, and with additional nonstop flights offered to Anchorage and a projected 12 percent increase in cruise capacities above last year's growth, Anchorage can expect an even greater number of visitors on its streets. Travelers and locals all need to utilize services and access city infrastructure year-round, which is why Saupe stressed the need for community involvement.
"Focusing on community can improve tourism," Saupe said in an address to Visit Anchorage members, "but focusing on tourism can improve community."
An increase in visitors directly translates to economic growth and workforce development, which is why Visit Anchorage is also introducing new initiatives to improve and develop training programs to fill vital tourism-based jobs. Also, in the coming months, emergency preparedness and disaster trainings are slated to help teach tourism industry leaders the best ways to recover from catastrophe.
Alaska's resilience and can-do attitude helped mitigate any potential unease among potential travelers, according to Saupe. Within a matter of days of the November earthquake, messaging across the Lower 48 turned to supportive encouragement as Alaskans rolled up their sleeves and fixed roads, schools and bridges. Where November's 7.0 earthquake could potentially have impacted 2019 tourism dollars, Alaska's response to the quake reassured potential tourists and deepened their trust in the destination.
That, Saupe believes, is the key to exponential tourism growth in Alaska. With community partnerships between tourism business and the non-tourism industry, strong disaster preparedness, and an emphasis on value and authenticity, Alaska's tourism industry could return to record-year revenue levels that haven't been seen since 2015.