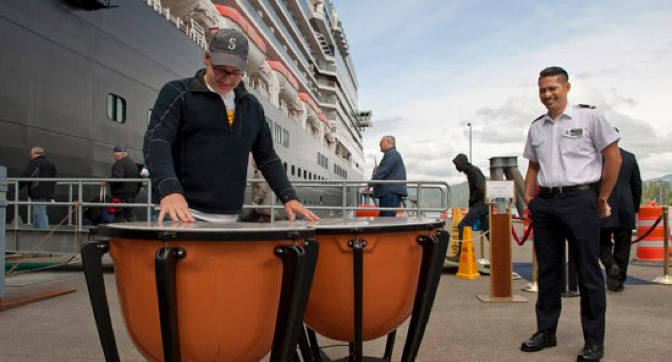 By Allison Hovanec
Sitka High School music teacher Mike Kernin was surprised with the donation of a kettle drum set via Holland America Line. Sitka's Port Manager at Cruise Line Agencies of Alaska, and Holland America Line Community Advisory Board Member, Fred Reeder, learned of the availability of the drums, which were no longer being used on the ms Eurodam.
As a Holland America Group Community Advisory Board Member, Fred evaluates dozens of donation requests a year. This time he was the one to put in the request on behalf of the Sitka School District.
"What a wonderful and generous donation from the Eurodam," said Fred. "I loved putting this one together, and I can't wait to see what the kids can do with the addition of the kettle drum." The local high school music program is very popular, but some of the instruments can be expensive and hard to find second hand — especially in a small community like Sitka.
Holland America said it was pleased to be able to support the Sitka High School Music Program, and glad that the kettle drums found such a deserving new home.