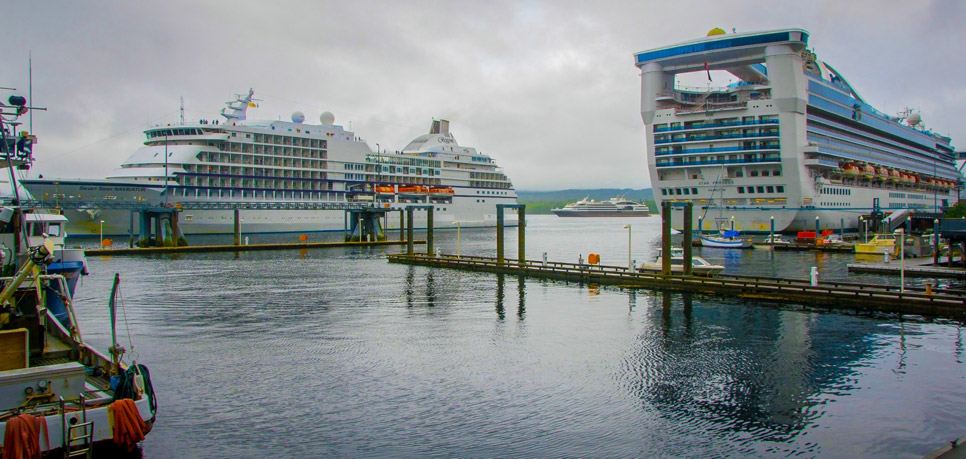 2018 schedule now posted
Thirty-four ships are expected to bring 1,134,219 passengers to Alaska in 2018 on 518 voyages. Cross-Gulf passengers heading to Southcentral Alaska and points north will total 386,088, a 19 percent increase. Click here for the complete schedule.
The future remains bright for the cruise industry in Alaska. That was the message John Binkley, president of Cruise Lines International Association Alaska, shared during a joint luncheon of the Ketchikan Visitors Bureau and Greater Ketchikan Chamber of Commerce in September.
Binkley said September 25, 2017, was an historic day as Ketchikan welcomed its one-millionth passenger for the season. He then spoke about the economic impacts of the cruise industry to Southeast as a whole, to Ketchikan specifically, and around the globe. He cited data from a 2016 McDowell Group survey looking at current and projected numbers.
For Southeast, Binkley says total visitor spending in the 2014-2015 season was $1.17 billion. There were a total of 11,200 jobs associated with the cruise industry, and payroll in Southeast amounted to $436 million. He says this is new money brought into communities.
"No different than mineral extraction or oil development where we send our crude oil outside. Money is brought back into the state. It's the same way with visitors who come up with new money from outside our communities, outside our state, and bring new economic vitality to our state and communities."
For Ketchikan, Binkley says 96 percent of visitors coming into the First City arrive by cruise ship. On average, each passenger spends about $160, amounting to more than a million dollars each cruise ship day.
"So if you're on Front Street stuck behind a motor coach or waiting for crossing guards to let you through, just think about the million and a quarter dollars. That's $12,500 one-hundred-dollar bills falling out of everybody's pockets, flying out the windows of those motor coaches, so keep your head down and look for those $100 bills on the sidewalk and see if you can pick up a few of those."
Binkley says adding the amount of money the cruise lines and crew members spend in Ketchikan amounts to $188 million per season.
Statewide, Binkley says a total of 1,060,000 passengers are expected this year. He says this is an all-time-record high for cruise ship visitors in Alaska. Binkley says though cruise ships aren't seen in Interior communities, they also receive economic benefits from the cruise ship industry.
"But we see about 225,000 cruise ship visitors that get off the ships in Seward or Whittier, go through Anchorage, usually by rail or motor coach up to Denali National Park, and then on to Fairbanks in the Interior."
Binkley says there are several reasons why there has been growth in the Alaska cruise industry. They include successful marketing, tax and regulatory stability, and Alaska's attractiveness.
Also, he says recent expansion of the Panama Canal allows more ships to come to Alaska.
"With the new canal, they can bring bigger ships from the Caribbean, in the winter time, right through the canal, into the Pacific and up to Alaska for the summer time. So that makes a difference as well, getting the larger ships that they can position in two profitable markets in different times of the year."
He says political stability in the country also benefitted Alaska.
In addition, Binkley says the cruise industry is strong globally, especially in the Asian market. He says Ketchikan holds about 4 percent of the global market, and that percentage is expected to increase.
Binkley says the demand for Alaska will remain high, and 2018 will surpass 2017 as a record year. Larger ships, with greater capacity, will be coming to the state over the next two years. Binkley says communities need to be ready to embrace that growth, and have the infrastructure necessary to accommodate it.
"And Ketchikan really has been one of the leaders in looking forward to what is going to be needed – planning, making sure they are setting aside the money to be able to fund the infrastructure to meet the demand of the industry. And that really has allowed Ketchikan to grow and have that capacity here to meet demand."
Binkley says new cruise lines will be visiting Alaska in the coming years. Windstar Cruises has sailings planned for next season, and Viking, Azamara and Cunard will arrive in 2019.
Source: KRBD