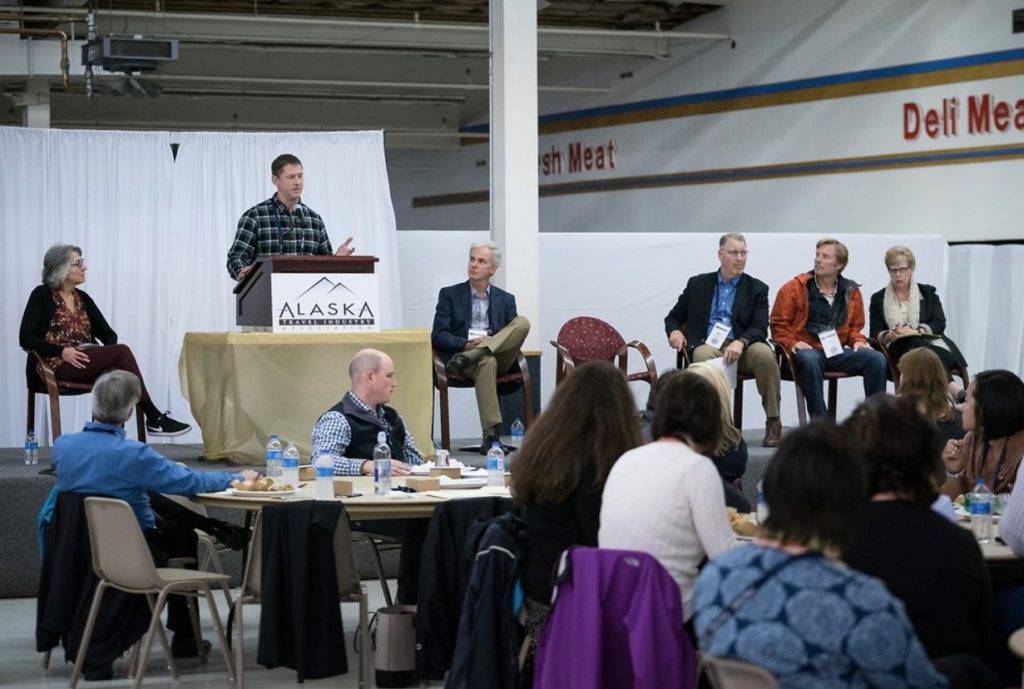 A panel at the Alaska Travel Industry's annual convention tackled the tricky subject of statewide infrastructure needs – and how to pay for it.
Deb Hickok, Explore Fairbanks, moderated the panel, which included Bill O'Leary, Alaska Railroad; Dave McGlothlin, Holland America Group; Commissioner Marc Luiken, Alaska Department of Transportation & Public Facilities (ADOT); Peter Grunwaldt, Premier Alaska Tours; and Marilyn Romano, Alaska Airlines.
Panelists agreed that a safe road system, improved Port of Anchorage and wise use of cruise tax dollars at the local and state level are critical to continue growing the visitor industry in the state. With more than two million visitors each year, traveling by sea, air and road, maintaining current assets and planning for future needs must be a priority for both industry and state officials.
McGlothlin pointed to the three C's: the need for communication, collaboration and coordination among cruise, land-package and air transportation companies and the ADOT. Luiken agreed, yet questioned the ability to plan for the future when budgets are cut by 25 percent and the state's first obligation is to maintain projects funded by federal grants. That leaves little on the table for new ideas.
Taking a slightly different approach, Grunwaldt emphasized the importance of connecting travelers to local Alaskans. These interactions create bonds that bring people back, year after year. Developing strong, local tourism employees and itineraries that connect local communities to visitors is critical for long-term success.
In a similar vein, Romano shared a story from Alaska Airlines about a young boy, who was losing his sight, who wanted to see the Northern Lights before he went blind. Partners across Fairbanks stepped up to provide he and his family a trip of a lifetime and, yes, even delivered the Northern Lights as if on cue. Her point? Tourism partners pull together to make experiences happen, and the strength in that unity is unique. Romano also gave a summary of the airlines' 2020 Great Land Investment Plan, a $100 million capital plan that provides terminal upgrades, a new hangar and those new 737-700 freighters to support Alaskans.