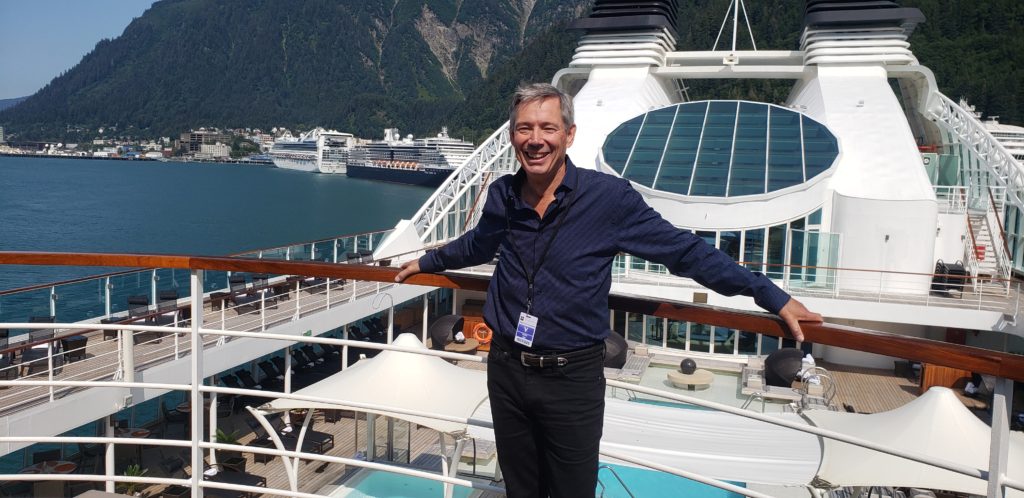 CLIA Alaska President John Binkley is stepping down from his role effective October 11, 2019. Binkley started the Alaska Cruise Association in February 2007 and has been one of the industry's greatest advocates. During his time as president, Binkley helped grow the organization from nine to 17 cruise line members bringing ships to Alaska.
In announcing his resignation, Binkley said, "Our goal has always been to help Alaskans gain more economic benefit from the cruise industry. Seeing the positive impacts cruise ships have had in Alaska's economy has been very fulfilling. New, small businesses starting up, more jobs and opportunities for Alaskans, more revenue to communities, all are very satisfying to see develop and progress."
In 2016, the Alaska Cruise Association was merged into the Cruise Lines International Association (CLIA). The merger helped give Alaska a stronger voice within the global cruise industry and provided better growth opportunities for Alaska. The cruise industry has become an important pillar of Alaska's economy, supporting thousands of jobs with a multi-billion-dollar annual economic impact.
"As President of CLIA Alaska, it afforded me a wonderful opportunity to advocate and help grow Alaska's visitor industry. I worked with members and communities to develop solutions that allow our visitor industry to remain sustainable while preserving and elevating Alaskans' quality of life. Alaska's cruise and visitor industry is healthy and growing, and I look forward to continue as an active participant in our state's success," Binkley stated.
"John leaves the organization in tremendous shape," said CLIA Alaska Chairman Charlie Ball. "Though his achievements are many, certainly at the center of his leadership legacy over the past year has been his ability to successfully help the industry and local communities adapt to the largest single growth season for Alaska cruising ever. In addition, John and the CLIA team worked throughout the winter and spring to resolve a long-running lawsuit with Juneau, which helped establish a great foundation for future collaboration within Southeast Alaska port communities."
Ball said that in efforts to centralize operations as part of its global strategy, CLIA does not plan to fill the CLIA Alaska president position. Lalanya (Lanie) Downs and Mike Tibbles will continue as CLIA's representatives in Alaska. "Mike and Lanie have been an integral part of our team in Alaska, and we feel confident that they will help ensure the industry's continued success and partnerships in Alaska."
In his new role, Binkley will report to his son, Ryan, CEO of their statewide family businesses. He will focus primarily on projects in Southeast Alaska, working closely with their partners on the new two-berth cruise dock in Ward Cove at the site of the former Ketchikan Pulp Co.
"Our member lines thank John for his dedication, his passion and his leadership. The innovations he drove during his tenure will continue to benefit the cruise industry in Alaska and worldwide," Ball said.
About John Binkley
John was born and raised in Fairbanks, a third-generation Alaskan whose grandfather arrived in the territory during the 1898 Gold Rush as a riverboat pilot. In 1950, John's parents started a small tour business in Interior Alaska, hosting visitors aboard the Riverboat Discovery. John was born into the business and grew up in the visitor industry. He saw firsthand the growth of the industry from the 1950s to the 1980s, when cruise ships started coming to Alaska on a regular schedule.
In 1977, John and his wife, Judy, moved to Bethel, where they started Northwest Navigation, which hauled freight on the Yukon and Kuskokwim Rivers. It was there that he started his public service career, first as a member of the Bethel City Council from 1982 to 1985 and then representing the region in the Alaska House of Representatives. Following his time in the House, John successfully ran for the Alaska State Senate in 1986 and represented a large rural district with 74 villages.
John served as chairman and CEO of the Riverboat Discovery for 14 years and as president of the El Dorado Gold Mine for 12 years.
John has an extensive record of civic service, including serving as chairman of the Alaska Railroad Corporation for 13 years, and he continues to serve on the AKRR Board of Directors. He also serves on many other corporate and nonprofit boards around the state.