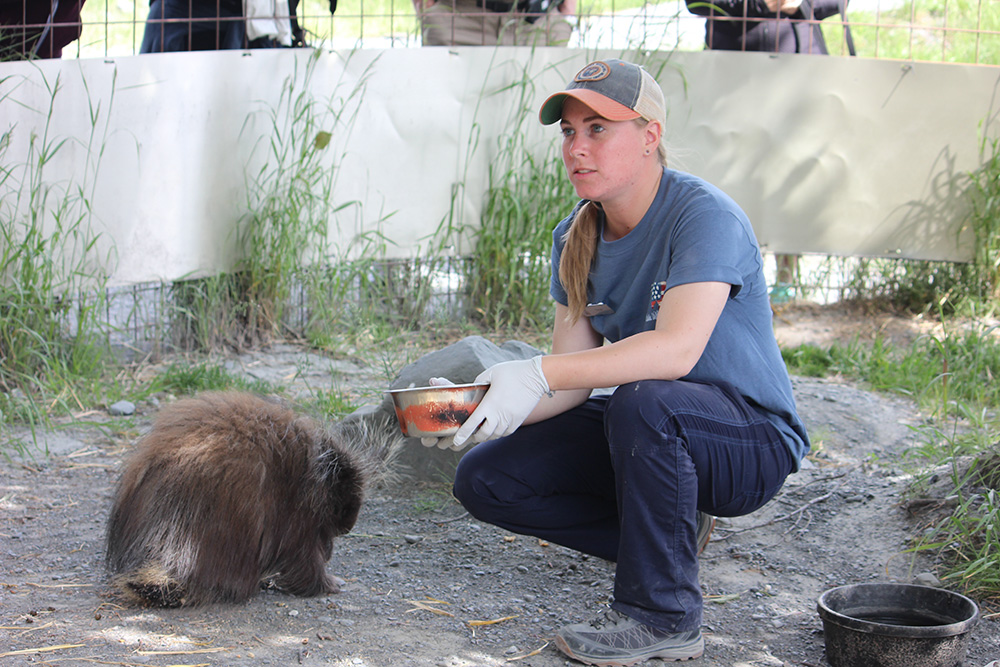 As part of her visit to Alaska, Cindy D'Aoust, president and CEO of Cruise Lines International Association (CLIA), stopped at the Alaska Wildlife Conservation Center in Portage, a popular shore destination for cruise line passengers.
Cindy and her three guests were treated to a private tour of the 200+ acre wildlife sanctuary, which is home to 19 species of Alaska animals, most of them orphaned or injured. Resident animals provide a memorable educational experience for visitors, as well as hands-on career experience for interns.
In her role as CEO of CLIA, Cindy has awarded grants through the Cruise Industry Charitable Foundation (CICF) that help fund the wildlife center's Naturalist Internship Program. The program is geared toward students studying wildlife biology or veterinary medicine. Interns receive valuable experience working with animals and explaining their unique characteristics to visitors, receiving outstanding experience in both animal husbandry as well as public speaking. Interns learn to translate "science-speak" into informative talks that visitors can't get enough of!
While at the wildlife center, Cindy and her guests held a baby porcupine (called a "porcupette"), petted a baby musk ox, got up close and personal with moose, wolves, bears, reindeer and other species of Alaska animals. Their tour even included a look at the considerable equipment necessary to transport 130 wood bison, North America's largest animal, 400 miles from the wildlife center to Interior Alaska during the historic Wood Bison Reintroduction effort in 2015.
Curator Sarah Howard led the tour and Cindy told her she hadn't realized how big the wildlife center is and was impressed with the amount of information the interns knew. Executive Director Di Whitney explained that Sarah started at AWCC as an intern and was hired following graduation. She eventually worked her way up to curator, the lead animal keeper role. The Naturalist Internship Program is a gift that keeps on giving – to both student interns and to the hundreds of thousands of cruise ship and other visitors who stop to sample a taste of Alaska's wild side.
Cindy was in Alaska on a personal vacation, traveling through the Interior and Southcentral. She and her husband, along with close friends, spent extended time in both Denali and Kenai Fjords National Parks. Other highlights included flightseeing with Alpine Air out of Girdwood with dog sledding on Punch Bowl Glacier, visiting Talkeetna, fly fishing in Fairbanks and experiencing the Alaska Railroad from Seward to Anchorage.
In addition, she had an opportunity to see firsthand the Seward Cruise Ship Dock. Seward is a major port for the cruise industry in Alaska and its dock will require replacement in the next 7 to 10 years.