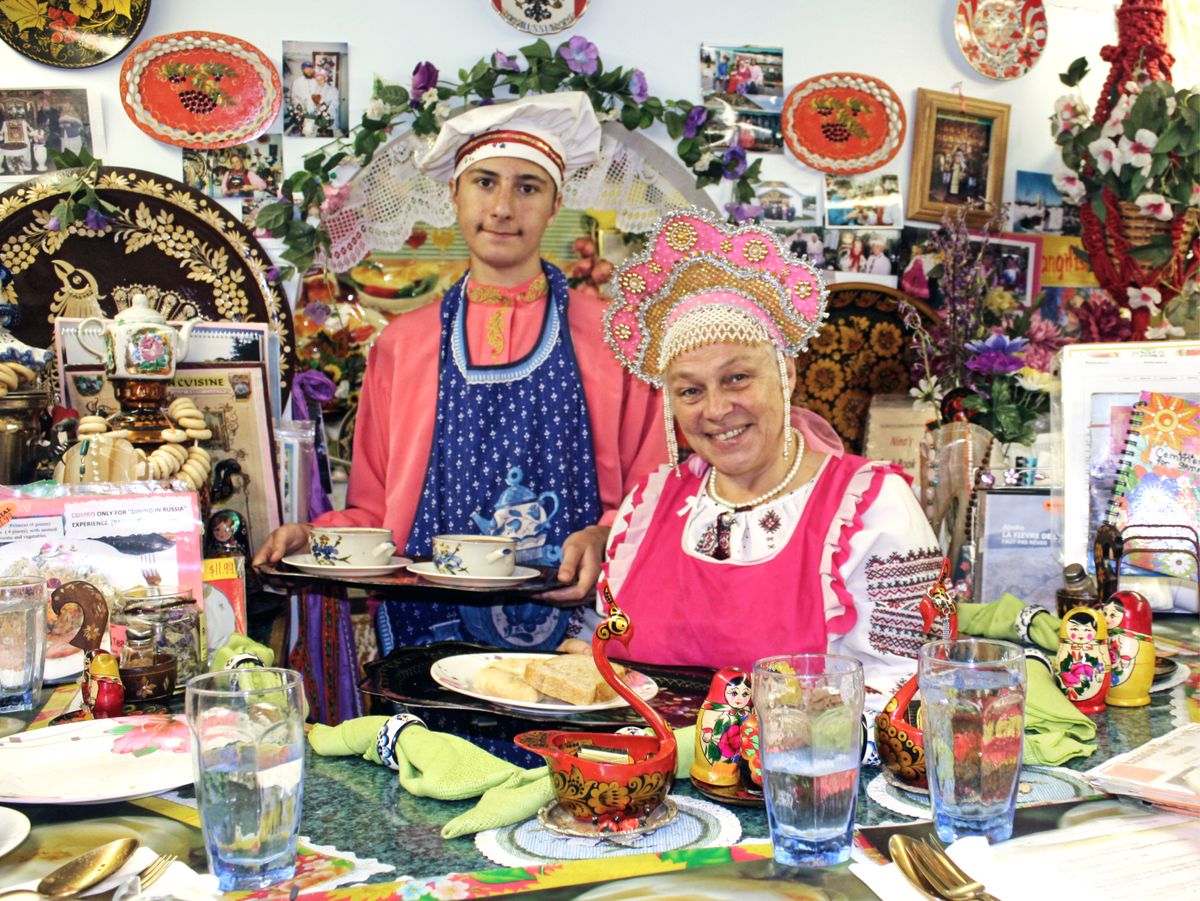 By J. Besl
You hoist wooden spoons in the air and smile politely. "Look into each other," Nina commands.
She means "gaze into your date's eyes," but in her Russian-inflected English, words have a way of coming out upside-down. Which is how you'll feel after a night in Nina's kitchen.
If you barely know your dinner date, maybe don't show up at Samovar Café. This Russian restaurant in Nikolaevsk is a small business with a big personality, and Nina K. Fefelov—your chef, host, photographer, stylist and best friend for the night—runs the show. When you step inside, you're immediately on her time and her wavelength.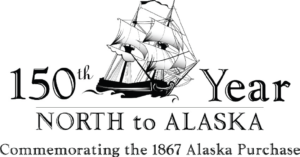 She knows the best place for you to take photos. She knows how many pelmeni you should order. When she asks you to wear Russian clothes and pose with a human-sized nesting doll, she'll thrust out two shirts. "Pink or blue? I recommend pink. You have 30 seconds." Just grab the wolfskin cap and roll with it. And don't interrupt her when she's cooking.
Aside from the post office, Samovar Café is the only business in tiny Nikolaevsk, a Russian Old Believer village on the Kenai Peninsula. The Old Believers split from mainline Russian Orthodoxy in the 1650s and landed in Nikolaevsk in 1968. This quiet community of fishermen and boatbuilders now occupies four villages across the Peninsula, but Nikolaevsk—about 350 residents—is the original settlement. The town is just 10 miles from the parade of RVs streaming through Anchor Point, but it feels so much further away. Let Samovar Café be your window into this enigmatic world.
Nina started her café in 2001, a year after paved roads reached town. Though many lifelong Alaskans couldn't find Nikolaevsk on a map, her guest book brims with visitors from distant cities: Melbourne, Kolkata, St. Petersburg (Florida).
Drop-ins are welcome at Samovar, but call ahead so Nina can prepare her kitchen. Reservations are required for the Dining in Russia experience, a three-course meal served on the U-shaped counter outside Nina's kitchen, where you can watch her cook, peruse her Russian gift shop and—importantly—have Nina dress you in Russian clothes.
If you order Dining in Russia (and, obviously, you should), ignore the printed menu and try to keep pace as Nina ticks off your options. Two piroshkis? Or one bread and one piroshki? How about a combo plate for the second dish, or just more piroshkis? That's what you want? It's too much. Here's my recommendation.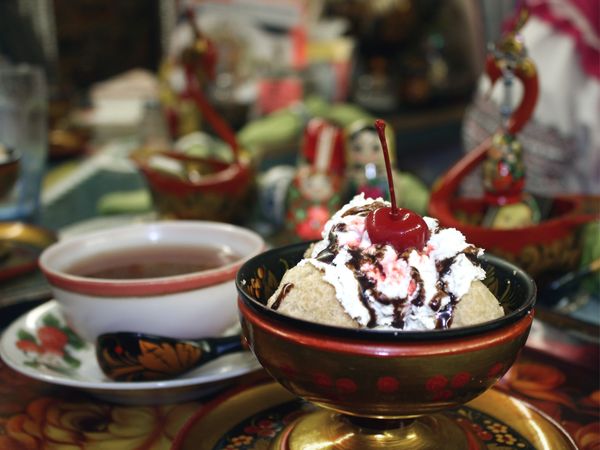 To dine at Samovar Café is to give in to dizzying confusion (again, not a great first date spot). Though prices are listed in the menu, there are numerous invisible asterisks — $20 covers the photo fee, but a gift purchase does, too. Trying to clarify will only add further confusion. "$20 costume, if you would like. The costume fee finished. Understand?" she asks.
But don't stress. Nina just wants everyone to enjoy their time in her home. "Don't worry about money!" she exclaims, furrowing her brow and shaking her hand as if the concept was a fly in her kitchen. She's cash only (though, strangely, also accepts PayPal) and, if you go over budget, she has an IOU list tacked to the wall. Just arrive with a full wallet and an open mind.
First out is the borscht—a hearty vegetable stew with a sweet tomato flavor, topped in sour cream and dill—along with warm potato piroshkis. Before you dig in, Nina has one more choice for you to make; each course requires a new photo op, and the ladies have a selection of shoulder scarves to choose from throughout the meal.
"Heads together," she instructs, hoisting your camera.
The second course is a combo plate — half pelmeni (beef-and-turkey-filled Siberian dumplings), half polish sausage, circling a generous stack of sweet sauerkraut made from mushrooms, carrots, peppers, onions and rice. Men serve the women, then serve themselves.
Dessert is last out the door — cream puffs with whipped cream and chocolate sauce, plus a small cup of samovar tea made of fireweed blossoms and leaves of currant, raspberry and mint, all harvested from her garden outside.
Dip your spoon in the tea so Nina can add a dash of cinnamon cloves to make it taste "like Christmas." Then wait, spoonful of hot tea hovering over a colorful saucer, as she looks back smiling. "You can drink tea," she laughs kindly. "No more instructions."
Nina's warmth and humor radiate through the room. It's a night of big laughs and cheerful disapproving clucks, as if you were visiting your own babushka. After the meal, Nina is happy to answer questions about her town, her cooking, her culture and her fascinating life.
Samovar Café is a time warp — three hours will feel like 30 minutes — and though you won't drink any vodka, you'll still stumble out a bit bewildered. It's worth the trip just to meet Nina, and dinner is only a bonus. But go soon. She'll be the first to tell you she's nearly ready to hang up the oven mitts. Don't miss this new take on the old country.
Source: Alaska Dispatch News