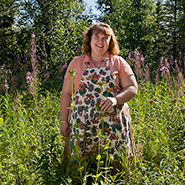 When did you first become involved in the tourism industry?
I moved to Alaska 13 years ago with the intention to stay for a year dabbling in having a B&B, then after some adventures, return to the Midwest to be closer to family and a corporate career.
What are your duties as president of the Bed and Breakfast Association of Alaska (BBBA)?
I provide communication and networking opportunities to busy innkeepers who barely have a moment in their day to stay connected to larger statewide tourism issues. Working more closely with Alaska Travel Industry Association (ATIA), and now the Alaska Tourism Marketing Board (ATMB), has a trickle-down effect which can help B&B owners see how they fit into the bigger picture and what trends or market changes may be coming in the future.
How are bed and breakfasts around the state supported by the cruise industry?
The largest percentage of Alaska visitors arrive or depart on a cruise ship. From ports to Interior Alaska, we are thrilled that many cruise passengers choose to have an up-close and personal experience by staying at our bed and breakfasts. We enjoy sharing our homes and what it's like to live in Alaska — a place that is so different than where they are from.
What's the best part of your job?
It's getting to know our guests and sharing our home with them. They love hearing about my story. I'm amazed at the breadth of people I get to meet at the breakfast table — jobs they've done, experiences they've had, what their home country and culture is like.
I am honored to serve as the Alaska BBBA president, on the ATIA board and to be selected for the new tourism marketing board. I enjoy learning best practices for businesses and regulations on statewide tourism marketing.
How should Alaska support the cruise industry?
No pun intended, but a rising tide lifts all ships, right?
It benefits small businesses to hear from the cruise companies, airlines and large tourism companies about regulatory or marketing funding challenges so we are aware of issues and opportunities.
To promote what's best for Alaska tourism, I think it's productive for our BBBA members to speak to local legislators. Making sure legislators understand that tourism is a renewable resource that pays dividends in our local communities statewide is critical. We know that the cruise companies promote Alaska, and BBBA wants to do what it can to support state marketing funding.
Alaska bed and breakfasts supply as many rooms as large hotels. BBBA engages with our large-company tourism allies to make sure it's a fair and stimulating business climate for all of us. We want Alaska to be the best place to visit and stay.