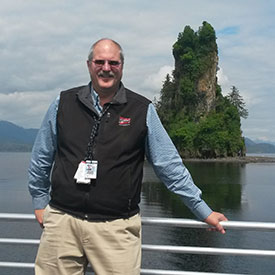 When and how did you join Cruise Line Agencies of Alaska?
In 1996, when Bill Sharp hired me as a port manager for Cruise Line Agencies of Alaska (CLAA); it was the best day of my life. [Bill now works for Holland America Line.] I love working with the cruise ships that come to Sitka and also the great people who also work for CLAA. I am now also responsible for the port of Icy Strait Point for CLAA. Icy Strait has seen a marked increase in ships and passenger counts.
Do you sit on any tourism related boards or committees?
I am on the AlaskaACT Committee, which is concerned with cruise ship tourism in Alaska. We have lobbied wastewater discharge regulations, cruise passenger head-tax issues and smoke-emissions regulations to the Alaska Legislature. In Sitka, I am a member of the Holland America Line local advisory board. This board has given out more than $150,000 in grants to groups in Sitka.
How does the cruise industry impact Sitka?
The impact is substantial. However, we've experienced a decline over the past seven years as cruise companies move ships to other destinations. The City of Sitka estimates that each cruise passenger accounts for $5 in direct sales tax to the city and this number has dwindled substantially since 2008.
Do you think you will have more tourists in 2015 than in previous years?
Sitka is expecting approximately 115,000 tourists in 2015. Sitka's fishing lodges already have excellent bookings for 2015. Also, Delta Airlines is offering a seasonal flight to and from Sitka each day, which should increase tourist numbers.
What do you think Alaskans and Alaska businesses need to do to support the tourism industry?
We need to make a stronger case for the value of the cruise industry to the state. We also have to do a better job of creating a regulatory environment that is stable and can be foreseen. Cruise lines are no different than any other business. A stable tax and regulatory environment is crucial to their continued growth.