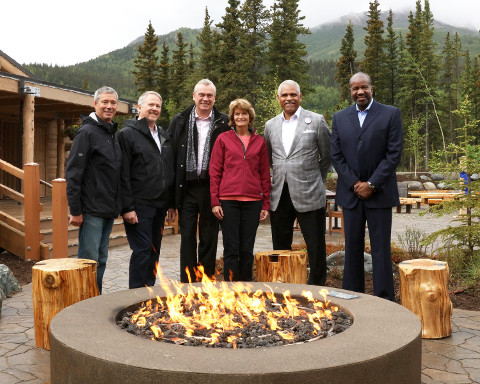 Under a steady mist of chilly drizzle and cloudy skies, executives from Holland America Line cut the ribbon at Denali Square, a new hub for social activity at the line's McKinley Chalet Resort in Denali.
As part of the dedication, the new space received a blessing, and local students performed the National Anthem and instrumental selections. Speakers included Tracy Smith, general manager of the resort; Arnold Donald, president and CEO of Carnival Corp., which owns Holland America; U.S. Senator Lisa Murkowski; Denali National Park Superintendent Don Striker; and Orlando Ashford, president of Holland America Line.
"Denali Square is a wonderful addition to what God has put here that has drawn us to this place," Murkowski said.
In addition to Karstens Public House, a restaurant with the ambiance of an industrial ski lodge that specializes in local fare, Denali Square features a bookstore, a gift shop, a photo studio (think kitschy portraits) and an artist-in-residence who creates original works for sale. The area also includes a bandstand for live music with plenty of outdoor seating at tables and around cozy fire pits.
Perhaps the most interesting venue, though, is the log cabin-style Gold Nugget Saloon, a bar and dinner playhouse set in a building that was part of the original resort. Instead of tearing it down, executives decided to move it the length of three football fields and include it as part of Denali Square.
Charlie Ball, executive vice president of land operations and customer services for Holland America Group, said the long-term plan for the overall property, which Holland America bought from Aramark in 2013, was set in motion 15 years ago with the purchase of an adjacent piece of land. Since then, Ball said Carnival Corp. has spent "tens of millions of dollars" on several occasions to bring the facility to its current state.
After the resort was acquired, more than 90 of the property's existing buildings (including the Golden Nugget Saloon) were moved. A total of 103 rooms were relocated to offer visitors views of the Nenana River, and two-thirds of the rooms received interior refurbishments.
"We're investing in Alaska for a reason," said Ashford, adding that the goal of the resort's development was to "create an oasis for people to reflect on the destination." He also stressed that Alaska offerings are some of the company's strongest products.
"Our commitment to Alaska is stronger than ever," Donald echoed. "We know that cruising and Alaska are an absolutely perfect match. What better way to see the vast fjords and … local communities than by cruise ship?"
However, Ball said that, while 20 million people cruise annually, only 1 million (5 percent) of them cruise to Alaska. Of those Alaska cruisers, only 15 percent add on land tours to the state's interior. He went on to say that one of the biggest challenges is to "make guest services work from end to end" so that the cruise and land experiences flow seamlessly into one another for visitors. "Our benchmark is to get our level of satisfaction to the same level as cruising," he said.
But that doesn't mean visitors have to book a cruise to stay at McKinley Chalet Resort. Smith said rooms can be booked in the same way as if McKinley were a regular hotel. Locals are also encouraged to spend time there, and many of the gift shop items, food products and even dishes have been locally sourced.
One of Holland America's nine Alaska properties, the resort boasts a main lodge with a Starbucks, Wi-Fi and a steakhouse; upper and lower campuses of cabins, each housing about a dozen rooms; walking paths; ranger talks; and regular shuttle service to both on-property and off-property locations, as well as a variety of excursion options.
Located next to the Denali Princess Wilderness Lodge, owned by sister cruise line Princess, McKinley sometimes sees overlap in bookings as the brands work more closely together.
"It's been an evolving process, and it's actually working really well," Holland America CEO Stein Kruse said of the collaboration, which has been in the making since Carnival Corp. acquired Princess Cruises in 2003.
Donald said another Carnival Corp. brand, luxury line Seabourn, will join Holland America and Princess in Alaska in 2017, and the three companies will share resort facilities.
The Alaska cruise season is at its peak between June and August.
Source: Ashley Kosciolek, Cruise Critic