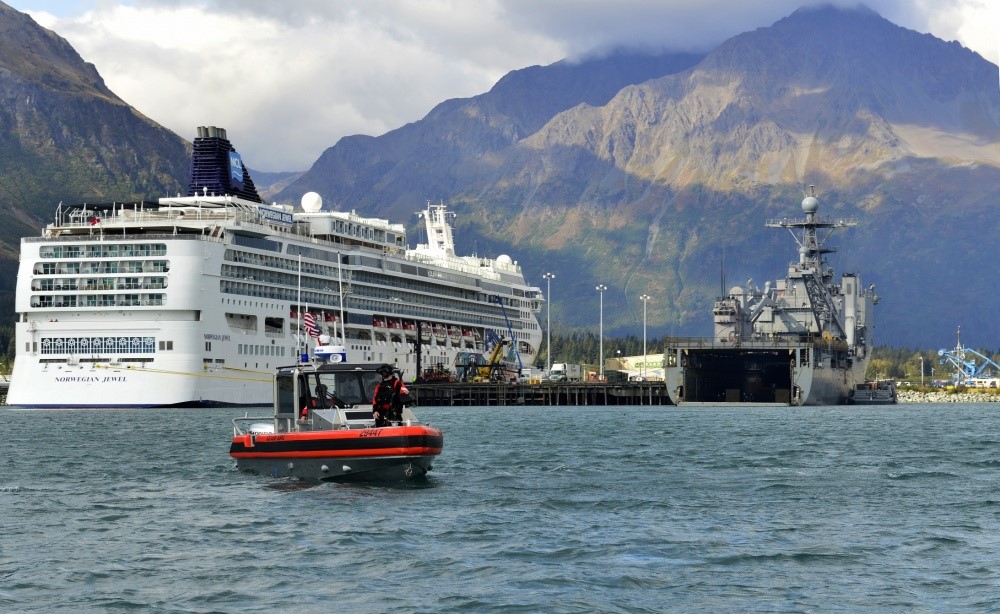 Over 500 members of the armed forces were in Seward earlier last month to participate in a military exercise geared at testing the Navy's logistical effectiveness in the northern theater. The Seward portion saw a ship-to-shore simulated fuel transfer, involving hundreds of feet of hose and pumping apparatus on the north end of Fourth of July Beach.
Dubbed the Arctic Expeditionary Capabilities Exercise (AECE), the drill brings nearly 3,000 total personnel and two vessels to Alaska for maneuvers in Seward and the Aleutian Islands. It also brought the Navy's highest official, Secretary of the Navy Richard V. Spencer.
As a whole, the exercise explores the Navy's ability to respond to conflict or disaster in a region where it has no permanent bases, said Rear Admiral Scott Gray of the Navy's Region Northwest. Gray is the shore commander responsible for Navy infrastructure in 11 states from Minnesota to Washington and also Alaska.
"Alaska is a very strategic place, always has been," Gray said. "Fortunately in the recent past, there really hasn't been too much of a threat up here. But it's a challenging environment in the world today. You've seen what the Russians are doing: they're building up their arctic bases. China declared themselves a near-Arctic power. What does that mean? They want to come up here and compete for resources."
Changes to the Arctic environment, including receding polar sea ice, have created new openings for competition in the globe's far north, Gray said. Of the states that control territory inside the Arctic Circle, Russia has been the most active in projecting military might in the region, according to reporting by the Associated Press, Bloomberg and others.
Source: Seward Journal