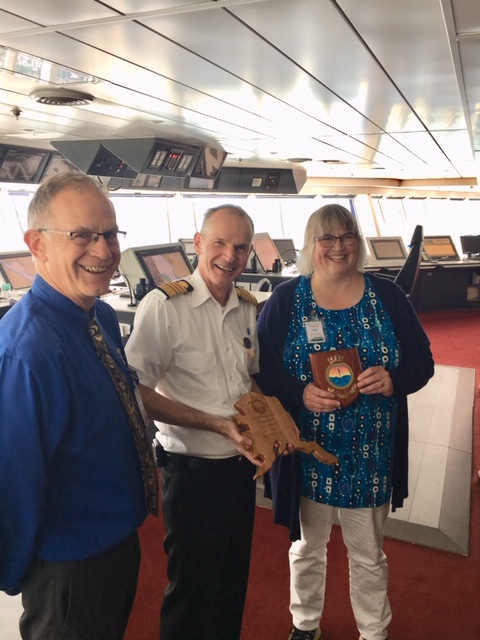 As part of its inaugural season in Alaska, the Royal Princess exchanged plaques with Juneau during a special ceremony in September.
The Royal Princess now spends its summers in Alaska, sailing from its homeport pf Vancouver, and explores the Mexican Riviera and California coast from its homeport of Los Angeles during the fall, winter and spring.
The Royal Princess is a Royal-class cruise ship, and the third ship to sail for the cruise line under that name. She was ordered in 2010 from Fincantieri and was constructed at their shipyard in Monfalcone, Italy.
The ship measures 142,714 GT and has a capacity of 3,600 passengers. Her amenities include a pair of public areas cantilevered over the side of the ship on the top deck—a walkway on the starboard side and a bar on the port side.
Captain Nick Nash has successfully moved through the ranks at Princess Cruises over his 30-year career. He joined Princess Cruises in 1989, was promoted to Staff Captain in 1997, Captain in 2002 and Fleet Captain in 2014 and 2015.