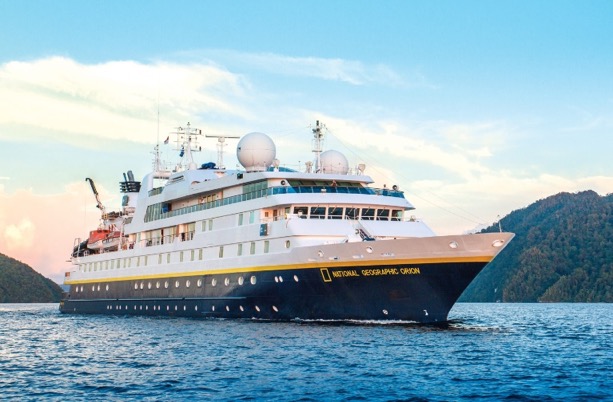 The 102-passenger National Geographic Orion will offer two Alaska itineraries next year.
The 22-day "Across the Bering Sea" is a round-trip from Anchorage with calls at Katmai National Park, Unalaska, the Aleutians, Petropavlovsk, the Commander Islands, Coastal Kamchatka, Provideniya, Bering Strait and Nome.
The 13-day "Bering Sea Wilderness" begins with a flight from Anchorage to Nome, then across the Bering Strait to Provideniya, Pribilof Islands, Unalaska, Alaska Peninsula, Shumagin Islands, Katmai National Park, Kodiak and a return to Anchorage.
The state-of-the-art Orion serves as National Geographic's luxurious base camp for voyages to the far-flung corners of the planet. The ship is a fully stabilized, ice-class vessel with an ice-reinforced hull, enabling it to navigate polar ice as well as small harbors. It has 53 cabins, and is equipped with kayaks and Zodiac landing craft, diving and snorkeling gear and sophisticated video equipment that allows access to the underwater world.
The ship includes an undersea specialist, a National Geographic–Lindblad-certified photography instructor, a video chronicler, a full-time doctor, an elevator, a fitness center, a spa treatment room, a sauna and laundry service. Wi-Fi is available in cabins and public spaces. A National Geographic photographer accompanies every departure.