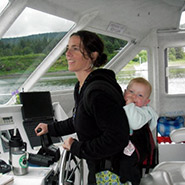 How did you end up in Alaska?
While going to college in Missoula, Mont., I decided I wanted to work in Alaska. In 1994, I jumped on the Alaska Marine Highway with $150 in my pocket and a job offer cooking at a Ketchikan logging camp. After that job did not work out (whew!), I continued traveling on the ferry until I ended up in Haines. I immediately fell in love with Haines, the people and outrageous scenery.
Briefly describe your business:  
The Tourism Department operates the main visitor hub in Haines at both downtown and our cruise ship dock.  Our staff of four, and many volunteers, greets visitors coming to beautiful Haines by land, air and sea.  The Tourism Department is responsible for promoting Haines as a top tourist destination with spectacular summer wildlife, adventure tours, glacial rivers and peaks. We promote Haines year-round as a thriving summer town, with a fall Bald Eagle Festival, and a burgeoning, stellar heliskiing destination. As tourism director, I try to maintain relationships with visiting ships as well as encouraging more stops to our port.
When did you first become involved in the tourism industry?
When I first moved to Haines, I started deckhanding on local tour boats, quickly working my way to a 100-ton master's license, running transportation and whale-watching tours between Haines, Skagway and Juneau for Alaska Fjord lines. In the off-season, I would often be the public relations and marketing for the tour company.
How did you get your start with the cruise industry?
While captaining, I operated whale and wildlife tours with visiting ships, mainly Royal Caribbean. I also assisted in marketing our tour to the ships.
How is your business affected by the cruise industry?
Haines is consistently building our town as a cruise ship destination. The port of Haines welcomes Holland America ships once a week every summer as well as being a major destination for the small-ship industry.  Haines also receives visits from Princess, Celebrity, Oceana and other lines. Just this past year, the port of Haines raised the welcome flag by putting $6 million into restructuring the cruise ship dock and facilities. As a fishing and tourism town, the cruise ship industry has been a significant boost to the economy.
What's the best part of your job?
Smiling faces! Working in the travel industry, you often meet people who are happy and excited to visit Alaska. It brings me great pleasure to meet these visitors and help make their stay in Haines as exciting and welcoming as I can.
What should Alaska do to better support/protect visitor/cruise industry?
To continue to maintain and promote Alaska as the pristine, wild adventure we are.  Remembering that people want to visit Alaska for the same reasons we want to live here.
Have you ever been on a cruise?
Yes. In 2004, I traveled with my mother on a Holland America Caribbean cruise. It was a wonderful vacation to do with my mother, with entertainment for us to enjoy together or to go our separate ways ­– as she hit the jackpot and I hit the spa!
What's your favorite cruise passenger story? 
While captaining a whale-watching shore excursion, we had the fortunate experience of watching a group of bubble-netting humpback whales in Lynn Canal. I was in the wheel house with three women in their 80s. After hearing the humpbacks' eerie call and watching them break in the water, we all cried with joy – at the whales and at their joy.  These ladies commented that this shore excursion and experience made their Alaska trip of a lifetime. These kind of stories and seeing people's joy at Alaska's beauty, constantly refresh my attitude in the tourism industry.