'Cruise ships help many get their first taste of Homer'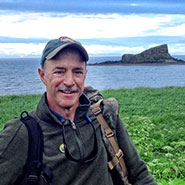 Business: The Homer Chamber of Commerce & Visitor Information Center provides economic development and support for the chamber's 500+ business members and is the marketing arm for the City of Homer.
Hometown and journey to Alaska: I am from Dunstable, Mass. After graduation from college with a BA in English and a passion for photography, I headed north to where I knew people could still talk their way into a job. I've lived in Alaska for 40 years.
When did you first become involved in the tourism industry? In 2009, I used my newly-minted six-pack captain's license to work for Chuck Slagle in Ketchikan. His Baranof Skiff Excursions tours brought cruise ship passengers out for a day on the water to fish and explore and, in the process, his guides also provided a narrative about local history and lifestyle.
How is your business and town affected by the cruise industry? This year, as in most past years, the chamber greeted five cruise ships. But in 2015, that number will almost double. Increased traffic will benefit all our business members, not just those businesses focused on tourism. Cruise ships help many people get their first taste of Homer and the Kenai Peninsula. We know from their comments that they will make the Kenai, and Homer in particular, a primary return destination because "there's so much to do here."
In the past 18 months, cruise ship tax funding provided four public restrooms at key locations in downtown Homer and out on the Spit. Visitors mentioned the lack of public restrooms as a key need for Homer.
What's the best part of your job? Meeting visitors, making lasting relationships with our business members, bragging about and showing off beautiful Kachemak Bay and the fine people of Homer.
What should Alaska do to better support/protect visitor/cruise industry? Developing better infrastructure at ports. Facilitating ground transportation to and from ships is a challenge here in Homer, as I'm sure it is in other smaller ports. These are areas that can be improved with grant funding, like the way the town was able to provide public restrooms with cruise ship tax revenue.
Have you ever been on a cruise? If so, which one and provide a positive example of your experience: Twice. Once, as an Anchorage Daily News photographer working on a story about cruise ships when cruise ship operations were just starting in Alaska. The reporter and I jumped onboard in Ketchikan and got off in Juneau. It was a large cruise ship with a pool on the upper deck, and I got some fun photos of people in the pool watching glaciers go by. That was my large-ship experience.
My second cruise was last summer when my wife and I cruised the Greek Islands on a mega-yacht that provided a very intimate experience. The contact with the crew and staff was so close that I was even able to improve my knowledge of the Greek language!