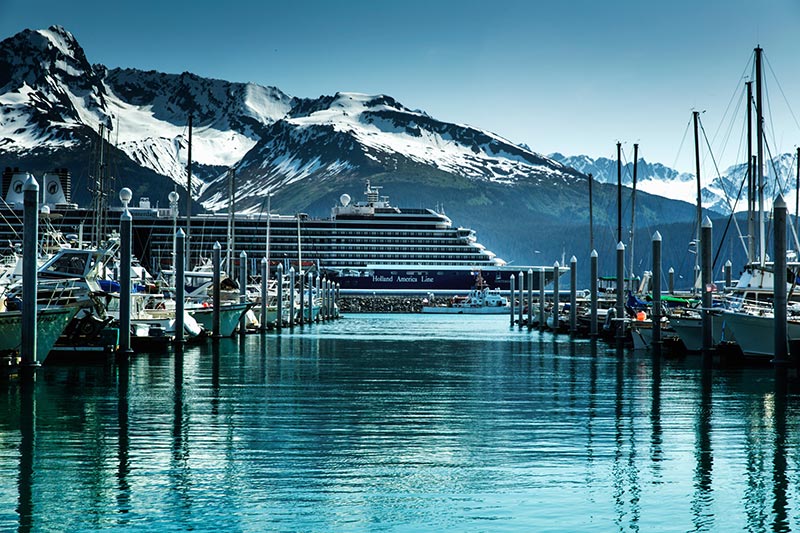 To support the increasing demand for Alaska summer cruises, Holland America Line is redeploying ms Oosterdam from Europe to the Last Frontier for the 2017 summer season.
The addition brings the number of Holland America Line ships to seven in the region, with Oosterdam joining ms Amsterdam, ms Eurodam, ms Nieuw Amsterdam, ms Noordam, ms Volendam and ms Zaandam for a total of 135 Alaska departures, more than any other cruise line.
Seven is the lucky number in 2017, as the company will celebrate its 70th year exploring Alaska. New in 2017, Eurodam will replace ms Westerdam sailing from Seattle. The addition of another signature-class ship means more new restaurants and venues will be available for guests to enjoy on Alaska sailings.
"Our award-winning Alaska cruises are at the heart of our global itineraries, and adding Oosterdam to the region in 2017 will allow even more guests to join in celebrating the exciting milestone of our 70th year in Alaska," said Orlando Ashford, Holland America Line's president. "As Seattle's hometown cruise line, we're thrilled to be sailing three ships from our local home port for the next Alaska season."
Holland America Line will now offer 126 seven-day cruises and nine 14-day "Great Alaskan Explorer" sailings that begin in late April and run through late September. Highlights include 46 seven-day cruises roundtrip from Vancouver, British Columbia, on Nieuw Amsterdam, Volendam, Noordam and Zaandam. In addition, Noordam and Zaandam each will sail 18 one-way, alternating, north-south, seven-day cruises between Vancouver and Seward.
Oosterdam is slated to sail 21 seven-day cruises roundtrip from Seattle from April through September. Eurodam will depart Seattle on 22 roundtrip, seven-day cruises, while Amsterdam is scheduled to sail one seven-day itinerary from Seattle followed by nine 14-day Great Alaskan Explorer voyages.
Oosterdam's seven-day, roundtrip Seattle itineraries will call at Juneau, Sitka and Ketchikan along with Victoria, British Columbia. Guests on board will enjoy scenic cruising in Puget Sound upon departing Seattle, as well as in Stephens Passage and Hubbard Glacier in Alaska.