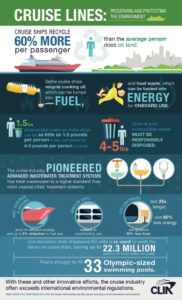 Clean and getting cleaner.
That's the findings of Cruise Lines International Association's (CLIA) 2016 Environment Sustainability Report, which details the state of the industry's environmental initiatives and its ongoing commitment to sustainable cruising.
The report outlines cruise lines' continuing efforts to collaborate with environmental stakeholders, develop innovative technologies and lead the maritime sector in environmental best practices and policies.
"Protecting and preserving the environment is the right thing to do and it is fundamental to the long-term success of the cruise industry," said Cindy D'Aoust, CLIA's president and CEO. "As the CLIA Sustainability Report demonstrates, our cruise line members are committed to environmental best practices and policies that will ensure that cruise passengers have access to pristine oceans, clean air and beautiful destinations for generations to come."
Highlights from the report include:
CLIA members have invested more than $1 billion in advanced emissions technologies and alternative fuels.
CLIA worked with the International Maritime Organization (IMO) to develop mandatory measures for a 30 percent reduction in new ship CO2 emissions by 2025.
Some cruise ships recycle or repurpose nearly 100 percent of the waste generated on board — by reducing, reusing, donating, recycling and converting waste into energy.
Cruise ship waste-management professionals recycle 60 percent more waste per person than the average person recycles on shore each day.
Cruise ships utilize ecological, non-toxic coatings on ship hulls to reduce fuel consumption by as much as 5 percent.
The cruise industry pioneered advanced wastewater-treatment systems that can produce cleaner water than the wastewater systems of most coastal cities in the United States.
A copy of CLIA's sustainability report can found here. http://cruising.org/docs/default-source/research/clia_2016_envsust_8-5x11_8-8.pdf?sfvrsn=0