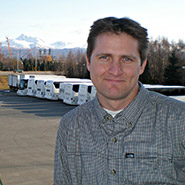 Tell us about Premier Alaska Tours:
Premier Alaska Tours operates land tours throughout Alaska and the Yukon. We have approximately 500 employees during the summer. The cruise industry is a vital part of our organization, with more than 70 percent of our land-tour guests arriving via cruise ship.
What should Alaskans do to better support the cruise industry?
The cruise industry is very important to Anchorage. Much of the summer airport traffic is cruise passengers. The rental cars, tour companies, restaurants, gift shops and attractions are partially supported by cruise passengers. We need to emphasize how the tourism industry contributes to the overall good of Alaska by reminding Alaskans that we have the following, thanks to tourism:
Bed-tax dollars
Increased choice of airfare in and out of the state
New restaurants
Civic centers across the state
Attractions like the museums, zoos, ski resorts, etc.
What's your favorite cruise passenger story? 
One of our expedition ships was scheduled for a full debark and embark in Nome. The weather was so foul that we were going to surpass our scheduled time by four hours. We called Alaska Airlines and notified them that our passengers were going to miss their flight. Alaska Airlines delayed the flight. When we arrived at the dock, children assisted with unloading luggage and local school buses transported our passengers to the airport. Hotels even opened their doors to the embarking passengers who waited for four hours. The Nome community and Alaska Airlines did us a great service that day.