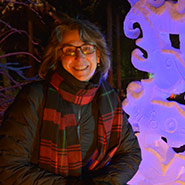 When did you first become involved in the tourism industry?
1982 in destination marketing and management sector of tourism (not counting the summers while going to college that I was a wait server in a resort region). I was primarily employed in Pennsylvania tourism until moving to Alaska in September 1999 to be the CEO of Explore Fairbanks.
How does the cruise industry impact Explore Fairbanks?
Cruise land tours are a very important contributor to the economy in the Fairbanks area, accounting for more than 50 percent of our summer season visitors. Two of our larger hotels are owned by Holland America-Princess group, one of which offers the largest square footage of year-round meeting space in a single hotel. The cruise companies are generous in donations of time and money toward the Fairbanks Visitor Industry Walk for Charity, the Interior Tourism Conference, in addition to many non-profits throughout the community.
How does Fairbanks market to cruise passengers?
Explore Fairbanks sales staff actively promotes cruise land tours in discussions with travel agents and tour operators at trade shows and on sales missions/calls, including in key cruise markets like Australia. We are a co-sponsor of the Alaska booth at SeaTrade. On the ground in Fairbanks, our Visitor Services staff coordinates annual downtown familiarization tours for driver guides. On a daily basis in the summer, the staff helps many cruise tour guests at the Morris Thompson Cultural and Visitors Center. We see a significant number of visitors who come to Fairbanks before and after their pre-formed cruise land tour who are looking for information on things to do just like any independent traveler. The fact that Alaska is losing market share in the worldwide cruise industry is very much on our collective minds. As Chair of the Tourism Policy and Planning Committee for the Alaska Travel Industry Association, I work closely with our business partners to address issues which affect the cruise industry, most recently for example, harbor seal guidelines. It's important to us to help foster a reasonable regulatory and tax environment that is conducive to business retention and expansion.
The tourism industry, especially the cruise industry, is expected to have an increase in passengers this season. How are you preparing for this year's season?
We'll be ready. We anticipate continuing to provide a high-level of customer service to our highly-esteemed guests.
What do you most like about being part of the tourism market board? A successful state destination marketing program directly impacts our success. The more robust state tourism budgets from FY 2012 through 2015 continue to have a positive effect on tourism revenues in Alaska. Explore Fairbanks actively participates in the state tourism marketing activities, such as purchasing consumer leads, attending international trade shows and sales missions, being a player in media relations aspects of the program and having a presence on travelalaska.com. But, with a seat on the Alaska Tourism Marketing Board, your responsibilities go beyond your region to the critical challenge of executing a program that positively impacts tourism sectors around the state. As the state dollars reinvested into destination marketing are reduced, these decisions are harder and scarier to make – there unfortunately is not a scientific algorithm that we can impose to provide an easy answer to allocating these limited dollars. We will be grappling with even harsher realities if the budget is further reduced.