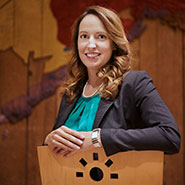 When did you first become involved in the tourism industry?
My involvement in the Alaska tourism industry began at the Alyeska Hotel and Resort 15 years ago.  Prior to that, the Aspen Skiing Company in Colorado was my first introduction to tourism. As the director of marketing for Alyeska Resort, I gained the foundation of knowledge of the Alaska tourism industry. Throughout my 10-year tenure at the Alaska Native Heritage Center, I gained additional experience and shared this through work on the board of directors for Visit Anchorage, committees such as Live.Work.Play. along with other visitor industry positions.
How many cruise tourists visit the Alaska Native Heritage Center?
In the center's 15-year history, over 1.5 million guests have come through our doors. Thousands of cruise guests visit the center each summer, both directly reserved with the cruise companies and others visiting during their stay either pre- or post-cruise. The cruise industry has been involved with the Alaska Native Heritage Center since inception. Cruise guests help to provide earned revenue for the center, which is essential to develop sustainability for our nonprofit organization.  The earned revenue helps to keep building our programing for Native youth, Alaska Native language and other mission-driven programing year-round.
What do you enjoy most about working at the Alaska Native Heritage Center?
My job has significant meaning, which is why I have been here 10 years.  I work every day to further the potential of our mission by preserving and strengthening the traditions, languages and art of Alaska's Native people through statewide collaboration, celebration and education. ANHC is making a difference in the lives of many young people and preserving cultural identity and awareness every day. I wholeheartedly believe in the mission of the center, the work that is done within its walls and beyond and I applaud the tourism industry in these efforts.
What should Alaska do to better support the cruise industry?
Alaska has something that other states and other countries do not have: We have the 11 indigenous cultures and over 20 languages of the Alaska Native people and their stories. In order to better support and create a sustainable industry, Alaska should showcase and share the cultures that make Alaska unique.
The Alaska Native Heritage Center:
The Alaska Native Heritage Center (ANHC) is a gathering place that celebrates, perpetuates and shares Alaska Native culture, language, heritage and tradition. It is a renowned cultural center and museum in Anchorage where all people can come to expand their understanding of Alaska's indigenous people. For more information on ANHC, please visit its website at www.alaskanative.net.