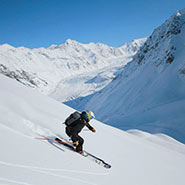 How does the cruise industry affect Alyeska and Girdwood?
Girdwood and Alyeska are a favorite place for tourists arriving by cruise lines to stop over and experience much of what is unique to Alaska in one place. We definitely experience an increased level of traffic and business during the cruise season.
What summer events at Alyeska are going to draw the most cruise tourists?
Live music, local food and craft vendors are all part of the family-oriented atmosphere here at Alyeska.
The Fiddlehead Festival on June 6-7 is a celebration of onset summer and the transition from spring to summer. This is when most everything gets lush and green and the fiddlehead ferns are in prime condition to be harvested. The festival includes demonstrations of how to cook the local fern – a local favorite.
On August 8-9 is the Blueberry Festival. This festival showcases culinary delights with blueberries that grow wild right here in the valley. The live music, craft vendors, pie eating and pie baking contests are a great way to sample the local flavor.
The event I most look forward to is the Forest Fair during the July 4 weekend. It is a unique Girdwood festival that features local artisans, live music, great food and adult beverages all in a relaxing and fun atmosphere.
What talents do you bring to the Visit Anchorage board?
For almost 20 years, I have been actively engaged in the travel, hospitality and ski industry from a marketing, sales and technology perspective. I look forward to working closely with all our partners at Visit Anchorage to find ways to help our guests ensure that they have a high level of perceived value and memorable experiences that will last a lifetime. Helping to continue the existing effort of fostering an alignment of a guest-centric approach with all of our member partners will be a big part of a contribution I want to make.
What do you hope to see the Visit Anchorage board accomplish in 2015?
I am impressed with the level of professionalism and expansive reach both domestically and internationally that they have on their docket. Bringing together thousands of businesses and advocating worldwide on their behalf is no easy task.
The continued successful implementation of the Visit Anchorage board's plan and ability to be agile when the opportunity arises is key. It is great to see Visit Anchorage leading the way with converting their website assets, as an example, to responsive, interactive and a mobile friendly user experience. Continuing to set the example that our membership can follow will be a key success factor for Anchorage to continue to be competitive in the marketplace. All ships rise with the tide, as they say.
What is your impression of Alaska?
I just recently moved here from Aspen, Colorado. I am really excited about calling Alaska and Alyeska my home. The new "norm" for me is discovering things to experience on a weekly basis that I was otherwise unaware would become one of my "bucket list" items.
This is really a special place in the world and it is great to be surrounded by friendly, supportive people who share a broad range of perspectives and are also open to new ideas and experiences. When you combine interesting people with life-fulfilling experiences, great memories result.
There are fewer treasures on this earth that are more valuable than what is gained by entertaining the possibilities available to be a part of what is here in our great state.