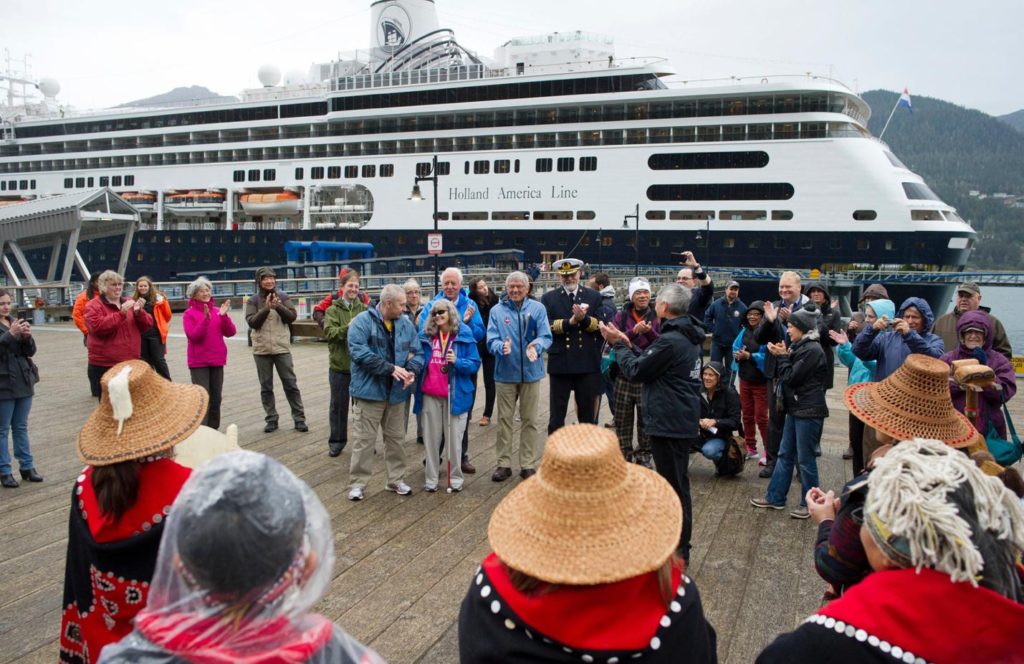 By James Brooks
Alaska is betting on tourism.
Facing a multibillion-dollar deficit, declining revenue and a public generally opposed to new taxes, the state has cut back on most services. In this year's capital budget, there's at least one area that's getting some extra help. Tourism marketing is expanding.
In December, Gov. Bill Walker proposed a grant of $3 million to market Alaska to tourists. That's up from $1.5 million last year, and while the Legislature cut plenty of items from Walker's budget proposal, it didn't cut tourism dollars.
"We thought we weren't going to have any funding, then we got the good news that we received $3 million," said Jillian Simpson, vice president of the Alaska Travel Industry Association (ATIA), which manages the state's marketing efforts.
What the Alaska Seafood Marketing Institute has done for Alaska salmon, the Alaska Tourism Marketing Board is trying to do for state tourism.
Established in 2014 by the Alaska Legislature, the marketing board is an effort to consolidate the state's marketing. Before then, state government had a marketing wing, duplicating the work of private-sector boosters. Now, the state provides a grant under supervision by the board. ATIA does the work.
This is the first time since its creation that the board-administered budget hasn't been cut. It was created with $18 million in state funding. That dropped 40 percent in its second year.
In fiscal year 2017, the state contributed just $1.5 million to tourism marketing. For the first time, the state didn't print a physical tourist-information brochure, making it the only state in the country to lack one.
Despite those cuts, Alaska saw a record number of tourists in summer 2016: 1.86 million altogether and 1.03 million aboard cruise ships. Two-thirds of visitors stopped in Southeast Alaska, and 61 percent stopped in Juneau on their trips.
Simpson said she fears that without marketing, that growth might stop, or even reverse itself.
That would have consequences for Alaska. According to the Alaska Department of Labor, tourism-related jobs were 11 percent of Southeast Alaska's economy in summer 2014.
It's the job of the tourism board to keep the people (and the money) coming.
With more funding this year — and revenue from its own efforts — the marketing board has approved a $5.36 million budget. The printed guide will come back, as will overseas marketing efforts.
Alaska looks to China
International visitors were less than 10 percent of the total tourist crowd last summer: 167,000 of the 1.86 million. Of those international guests, 38 percent came from Europe, 36 percent came from Australia/New Zealand, and 14 percent came from Asia.
Only 3 percent of Alaska's summer tourists came from China last year.
ATIA will try to change that. The board-approved budget includes $150,000 for marketing in the UK, German-speaking countries, and China.
Why German-speaking Europe? According to the study, 12 percent of Alaska's international tourists came from Germany, Switzerland or Austria. Seventeen percent came from the United Kingdom. The Netherlands and Italy were 2 percent each, leaving the rest of Europe to make up the last 3 percent.
China is the big goal, Simpson said.
"That market is just so huge, and they are coming here," she said. "In China, in particular, what we'll probably do is look for somebody in-market to assist us and kind of be our point person."
Before the budget cuts kicked in, the state had five international offices to coordinate marketing. Now it has none and must rely on others to do its work overseas.
Simpson said the main thing to keep in mind is that "Alaska is a long-haul destination" and "requires a lot of advance planning."
Marketing budgets affect tourism a year or two down the line, Simpson said, and the state's fiscal boost should bring a positive impact.
Source: Juneau Empire