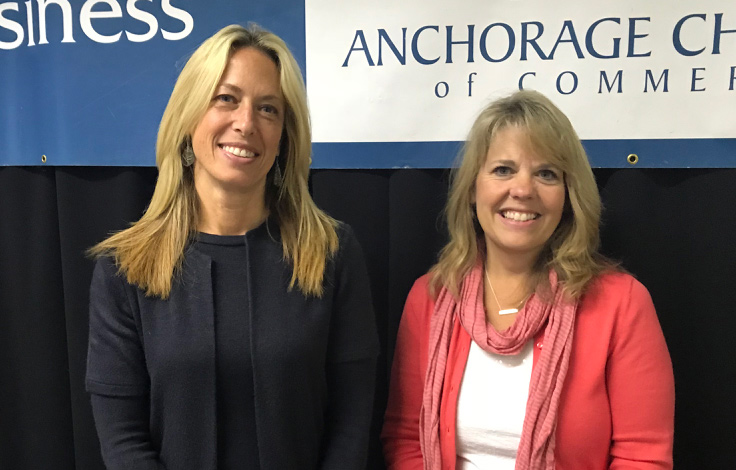 "Every dollar spent on tourism marketing results in $58 in travel spending." That's what Sarah Leonard, president and CEO of the Alaska Travel Industry Association told the gathered community and business leaders at an April Anchorage Chamber of Commerce luncheon. Leonard came prepared with a wealth of statistics to share, and to offer some insight to what recent travel and tourism trends might mean for Alaska.
Projections estimate that the cruise industry will see a 7 percent growth this summer, which will in turn lead to a bump in the local economies throughout the state. Our reputation among visitors is extremely positive, rated as an "established" destination with "good community engagement."
That's according to Julie Saupe, president and CEO of Visit Anchorage. She said that cruise passengers account for 40 percent of all visitors to Alaska, and with the projected 7 percent growth, cruising could shortly be the leading tourism industry for Alaska. Visit Anchorage reported a 20 percent increase in cruise ship passengers in Anchorage just last year.
This increase in travelers could be a result of a shifting demographic. Visit Anchorage collects data on the visitors who arrive in Alaska, and while most visitors are empty-nesters in their 50s, there is a growing trend of young, West Coast professionals giving Alaska – and cruising – their attention and money.
"Anchorage is perfectly posed for West Coast travel," said Saupe. "We have a lot of young people with more money on the West Coast." These young professionals also tend to spend more money in-state when they travel, as they typically participate in more activities when they travel to a new destination.
Younger travelers tend to have a shorter planning window – for example, they'll begin planning in July for August travel. Leonard asked for a "reasonable investment in the industry" from statewide industry partners, and Saupe said the key is "knowing how to approach" these potential customers. "Our job," Saupe continued, "is to navigate these challenges smartly and leverage our funds carefully."