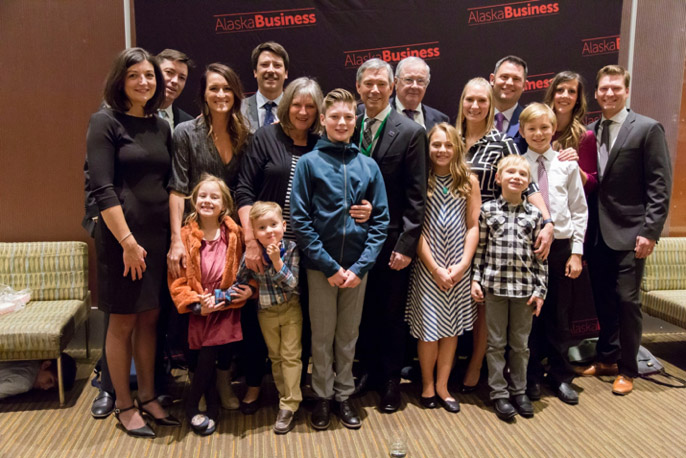 Editor's Note: CLIA Alaska President John Binkley was one of four Alaska business leaders inducted into the 32nd Alaska Business Hall of Fame. Laureates are selected based on their direct impact in furthering the success of Alaska business, support for Junior Achievement's mission and programs and demonstrated commitment to the Alaska economy. The other 2019 inductees are Rick Morrison, Morrison Auto Group; Richard Strutz, Wells Fargo; and Connie Yoshimura, DWELL Realty.
By Tasha Anderson
John Binkley has had long and varied involvement in different businesses in the Last Frontier. Of all his accomplishments, he says he's most proud of the tug and barge business, Northwest Navigation, that he started in 1977 and operated with his wife until the late-1980s, when he sold it to Crowley Maritime. "We started it together as a young married couple on the lower Yukon River, in a part of Alaska where we weren't known and our family wasn't known. It was a transformational experience to get away from what was comfortable for us and start something new," Binkley says.
Binkley saw examples and learned lessons about business at home from a young age. And his family has a rich history in Alaska: his grandparents moved to Alaska during the gold rush to operate riverboats, and the family has been making positive contributions to the business community since.
"I grew up in a small family business and learned a lot of these values as a child growing up. [We had] conversations around the kitchen table: talking about business, talking about civic affairs, what was going on in the community, how the banking system works, getting a loan as a family, building boats, operating our business. And our parents were very inclusive for my siblings and I growing up, so we were immersed in business," he says.
He and his wife have continued the tradition. "My wife and I have not only been married for 41 years, we've been business partners for 41 years," Binkley explains. They have passed on the family passion for business and entrepreneurship to their own four children, who are now active in the Alaska community and, among other ventures, own the Anchorage Daily News.
Binkley believes that free enterprise is the foundation of how this state and country thrive. "It's important that young people understand how our economic system works. Hopefully that inspires them to participate and compete in our global economy." To that end, he avidly supports Junior Achievement of Alaska's mission to educate youth about business and free enterprise so they can enter the workforce prepared for success.
But the onus isn't just on Junior Achievement or similar organizations; it takes a community to build a community, and business leaders and owners have a responsibility to provide opportunities to Alaska's young people.
Binkley takes responsibility to one's community seriously, something that factored heavily in his decision to dedicate many years of his life to public service. While living in Bethel, he became involved in city politics and was elected to the city council before serving in the State House of Representatives and then the State Senate. "It was an incredible experience to get to know and understand rural Alaska, which is such an important part of our state. … It was such a privilege, so humbling, to be able to serve in the legislature and represent [my constituents'] interests. It was one of the highlights of my life and something that I really enjoyed, and it inspired me to run for governor in 2006."
Although his bid for governor was ultimately unsuccessful, Binkley reflects on the experience fondly, in part because of how it led to opportunities for his family. When Binkley decided to run for governor, he stepped down from the family business. "Our oldest son took over, and he made it clear to me that if I was not successful in my run for governor, if I lost, I shouldn't plan on coming back. So, when I did lose, I had to look for another job," Binkley laughs.
Shortly after taking over the business, Binkley's son packed up Binkley's office and delivered it to his house in boxes. "It was a way for him to graphically communicate to the employees that there had been a generational change and it was a permanent change. I couldn't have been prouder of him. It was a sign to me that he had the leadership skills and qualities to be able to take over the family business." Currently all three of Binkley's sons work in the family business and his daughter is a petroleum engineer. "We are so proud of all our kids and their spouses; they are raising our nine wonderful grandchildren and contributing to their communities and our state."
After the 2006 election, Binkley explored a new path and started the Alaska Cruise Association, which he has helmed for 12 years, representing the cruise lines that operate in Alaska and fortifying the industry. "We've taken it from a low of about 850,000 guests annually coming to Alaska on cruise ships to projecting over 1.3 million cruise guests this season," Binkley says. He's passionate about the tourism industry and its significant economic benefits, bringing billions of dollars to the state and providing more than 40,000 jobs. "Alaska is such a special place and the people are so great. Visitors are in awe of the beauty, wildlife, nature, and the cultures that we have in Alaska, but most importantly the people of Alaska are what really wow our visitors."
While many of Binkley's endeavors will have positive, long-lasting impacts on the state, to him legacy is about those he loves. "Really it's about family: the values, the ethics you're able to instill in your kids that then filter down to your grandkids and future generations."
Source: Alaska Business Monthly