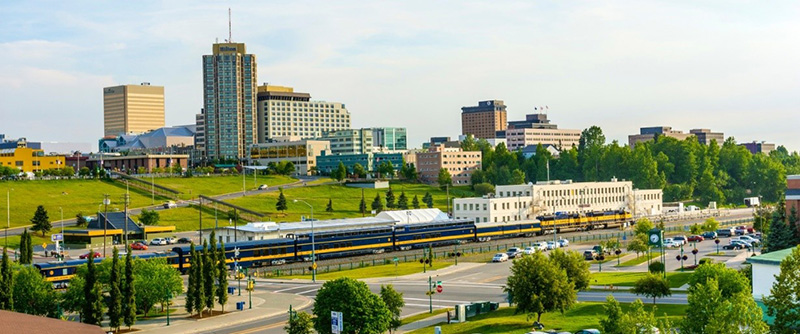 "It's hard to believe that not even a century ago, Alaska's most sophisticated city was simply a collection of tents," writes US News.
And now it's been voted the 17th "Best Place to Visit in the USA."
"Founded in 1914 during the construction of the Alaska Railroad, Anchorage has since blossomed into the Last Frontier's financial and commercial hub and now houses a massive 40 percent of the state's population. But while you're sure to find all the amenities of a cosmopolitan American city, that's not what draws tourists. Most people only catch a glimpse of this major northernmost U.S. city on their way to discovering the snow-capped peaks of the surrounding mountain ranges or the vast wilderness that lies beyond.
"Sure, Anchorage is a paradisiacal home base for skiers, hikers, fishermen and wildlife watchers, but that doesn't mean the city itself should be ignored. Alaska's metropolis boasts a plethora of attractions, including museums, shops, nightlife venues and a fantastic zoo. And if nature is your true calling, bear in mind that you don't have to skirt the city limits to get your fill: Visit during the summer to experience the City of Lights and Flowers (home to about 80,000 flowers throughout 460 flower beds) in full bloom or during any other season to be dazzled by the sparkling Northern Lights."
Thousands of travelers weighed in on which vacation spots can be considered the best in the USA. Based on those user votes and expert analysis of factors like the variety of attractions, accommodations and dining options in a destination, U.S. News came up with the top places to visit in the USA. These stateside getaways range from beaches to national parks to big cities. You can read more here.