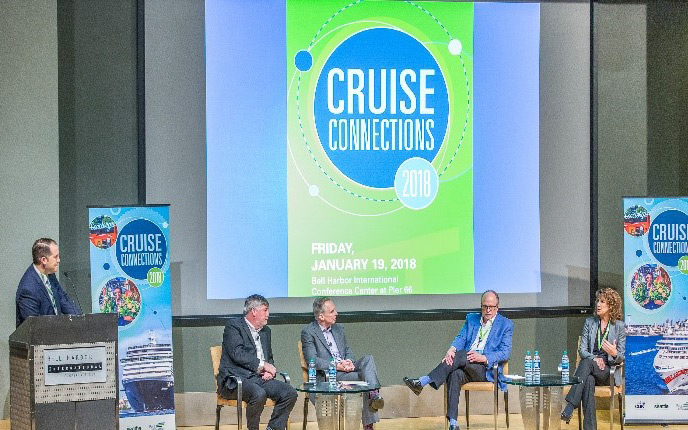 Cruise Connections featured an opportunity for Pacific Northwest suppliers, tour and attraction operators, tourism and port representatives to meet key cruise executives, discuss industry and business prospects and current issues.
Sponsored by the Port of Seattle, Visit Seattle and CLIA North West and Canada, the program included sessions on Operations and Vessel Supplies, Pre-and Post Tours, Attractions and Partnerships, Food and Beverage Suppliers and Home Port Operations. Each session was designed to provide information to companies and suppliers on local opportunities and operations.
Topics of discussion ranged from shore excursions, becoming a vendor for cruise lines, world-wide growth of cruise and what top destinations of interest are growing (Alaska is one of them!). Cruise Connections is an initiative to bring vendors from across the region together with cruise representatives to learn about doing business in the cruise industry. The event was held at Bell Harbor Conference Center, which also serves as Norwegian Cruise Lines terminal during the cruise season, and where the Norwegian Bliss will call in 2018.
The Port of Seattle is building on top of its first million passenger year count that saw 214 ships calls in 2017. Port of Seattle research indicates that the cruise industry generates over half a billion dollars in yearly economic impact in Washington state. Seattle has grown over the last couple of decades to become one of the largest home ports for cruise. Cruise Connections reached out to suppliers, small and large businesses, everything from piano tuners to ship and hotel providers.
Some 240 people attended the 2018 event which started with an opening State of the Industry panel discussion, "The Way Ahead for the Alaska Cruise Industry & What It Means for Seattle". Cruise line executives discussed industry trends world-wide, market growth overall and how Alaska's continued popularity creates opportunities for Seattle's thriving cruise industry.
Source: CLIA North West and Canada