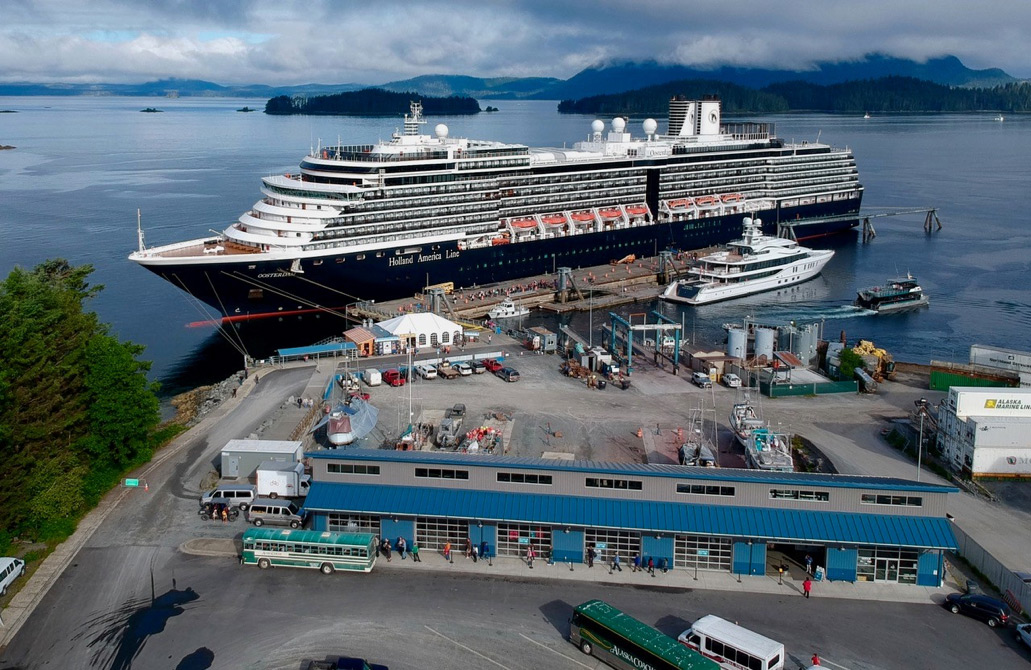 By Shannon Haugland
Halibut Point Marine is expanding the facilities at its Old Sitka Dock to allow two cruise ships to be berthed at the same time.
The dock currently can accommodate one ship of up to 1,100 feet. The expanded facility will make room for a second vessel up to 800 feet long at the company's deep-water dock, said Chris McGraw, general manager of Halibut Point Marine.
The additional berthing space will be on the inside of the existing floating dock.
"We have quite a few 800-foot-long vessels this summer – they can all dock there," McGraw said.
The additional capacity will be available this cruise season, when McGraw expects there will be 15 or 16 days with two ships tied up at the floating dock. This year's experience will be good training for 2019, when he expects there will be as many as 30 days with two ships there at the same time.
McGraw said the schedule is still being worked out for 2019 but he has heard numbers at 200,000 and above, which would be Sitka's biggest year in more than two decades.
The number of possible cruise visitors to Sitka this summer is estimated at 149,000, down from the 171,000 berths last summer, because one of the cruise lines will be sending smaller ships to Sitka, said Rachel Roy, executive director of Visit Sitka and the Chamber of Commerce.
Predictions of visitor numbers are always subject to change, Roy said. "Vessels can be rerouted, or added into the Sitka market," she said. "We get one-offs or two or three stops (added)."
But 2019 is expected be a much bigger year, with the possibility of a few megaships coming to Sitka, Roy said. "If we get those, the numbers could go up really fast," Roy said.
Cruise Line Agencies Port Director Fred Reeder said numbers in 2019 could reach 235,000, the highest since Sitka's biggest year in 1998.
"That's really good news," he said. "Sitka that year will see two- and three- ship days, in line with the growth in the cruise ship market in recent years."
He said the McGraw dock this summer will add money to the community by allowing ships to load up on supplies while they stop in Sitka.
Having two ships at the dock at one time means "we're going to have to increase buses, bus drivers," McGraw said. "But we're pleased."
The second berth can accommodate a ship as large as Holland-America's M/V Amsterdam, he said.
McGraw said Halibut Point Marine doesn't need an additional tidelands permit to upgrade the dock, since the location is within the area of the existing permit. Steel pontoons and other parts for the addition have been fabricated in Seattle, and work is scheduled to start in two weeks and be ready for this year's cruise season, which opens in early May, McGraw said.
"We're excited," McGraw said. "Sitka's definitely growing, from what I'm hearing, we're increasing capacity. … I think we'll continue to see growth for the foreseeable future."
Roy said in view of the increased number of visitors arriving at Old Sitka Dock, the Chamber is thinking about adding visitor services there, in addition to Centennial Hall and visitors center on Lake Street.
"We're looking at what services are needed with the increased guests to the dock," she said. "If we have double the people, it will double the need for that."
Source: © Sitka Sentinel