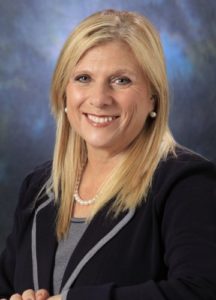 Lisa Lutoff-Perlo was the first female to become CEO of a publicly traded cruise line.
And by extension, she is also the first and only woman to lead a Royal Caribbean Cruise line. The fact that it took until 2014 for a woman to take such a role can also be construed as a delay.
Lutoff-Perlo does not shy away from the trailblazer title. She may not have asked to be the first female cruise CEO, but she has delivered a legacy in just three short years.
That legacy can first be seen in the ships she has spearheaded. Celebrity Edge is touted as the ship to transform all ships, with cabins and communal spaces that face outwards to the ocean.
Ever wondered why the sunloungers all face in on a cruise ship? So did Celebrity.
The Edge design, and the entertainment garden space of Eden, will change all that.
Celebrity is investing $400 million into the rest of the fleet to ensure they remain relevant.
But beyond the pioneering technology and design, Lutoff-Perlo is motivated by purpose. That purpose is equality and inclusion.
"When we were thinking about the heroic ship that Celebrity Edge is, we needed a heroic godmother. Probably one of the proudest moments of my life – not just my career – was when Malala Yousafzai agreed to be the godmother," Lutoff -Perlo says.
Celebrity has partnered with Yousafzai for two years, with a donation to the Malala Fund, to help with the education of young girls all around the world.
This approach to equality trickles through from ambassador to crew.
"A female CEO can't just have one female captain on the fleet," Lutoff-Perlo said.
Celebrity Cruises now boasts three female captains, the highest of any cruise-line contingent.
In the last year and a half Celebrity's head of marine operations, Patrick Dolgrane, has taken the number of female officers on Celebrity bridges from 5 percent to 20 percent.
Celebrity has the first female captain in the Galapagos and the first Ecuadorian woman to be a captain.
Celebrity has also appointed the first woman from Africa to ever work on the bridge of a cruise ship, as Celebrity had to work for a year to get the Ghana maritime academy recognized by international maritime regulators and organizers.
Now there are five women in the Ghana maritime academy.
Celebrity also supports the LGBT community and is the first cruise line in the world to allow same-sex marriages on board.
Lutoff-Perlo is not concerned that this social conscience might alienate some of the demographic.
"If inclusion, acceptance and tolerance alienates people, then that's a reality and an unfortunate part of life. It may alienate some people; however, I believe that it does the opposite. I believe that it helps more people understand what we stand for and makes them want to cruise with Celebrity as we share the same values.
"I look at it in the positive way of what it does for our brand and the world versus some of the people who it may alienate."
Lutoff-Perlo has strong ambitions for the brand.
Celebrity wants to increase the number of international guests that cruise out of Australia to take cruises in Alaska, Europe and Asia. And there's a desire to expand its offering beyond the seas.
"We really want to be a fly-cruise brand again."
Challenges still remain for Celebrity – chiefly around penetration and first-time cruisers.
"I've been doing this for 31 years and I'm still trying to convince people this is a great way to take a vacation."
Source: Travel Weekly