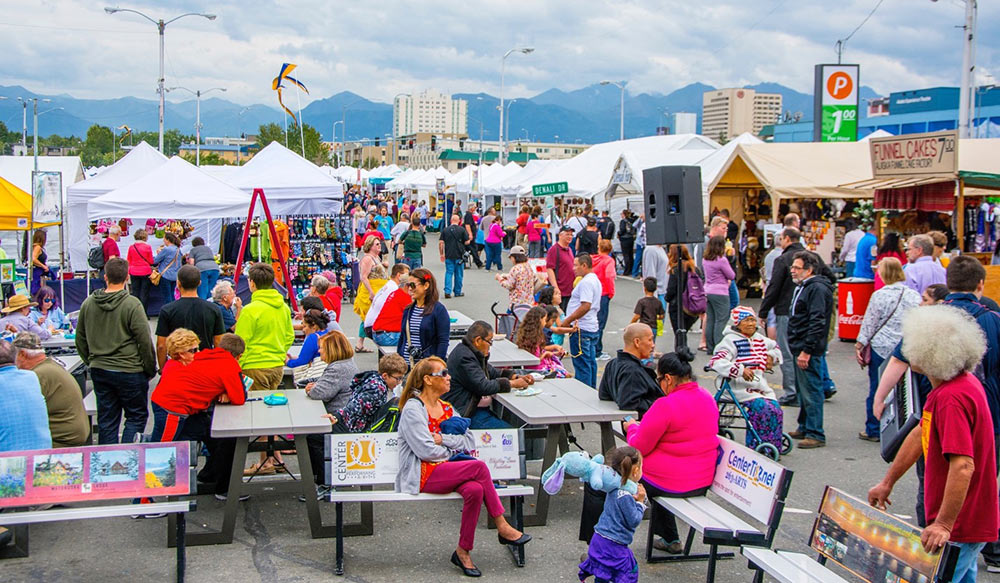 Think you know the Anchorage traveler? You might be surprised at what they actually look like. There's a new Anchorage overnight vistors report that takes a deep dive into overnight visitation in Anchorage and Girdwood, and while it might confirm common assumptions, it could also upend conventional wisdom.
The new report uses data from the state's Alaska Visitor Statistics Program. Where the full, statewide report covers all summer visitation across Alaska, this new report provides a more comprehensive view of one particular locale: overnight leisure visitors to the municipality of Anchorage.
Slicing the data by geography and personal demographics, planning, booking and travel habits, the 75-page study holds a wealth of information about summer travelers visiting Anchorage.
"There's a lot to digest here," said Jack Bonney, Visit Anchorage content manager. "We identified a few themes from our initial readings, but there's much more information available. We hope this will inform our future work across a whole spread of audiences and programs."
Geographic concentrations for Anchorage travelers
The Western U.S. is an exceptionally effective and efficient area to target for Anchorage overnight visitation. According to the study, the West – including Arizona, California, Colorado, Hawaii, Idaho, Montana, Nevada, New Mexico, Oregon, Utah, Washington and Wyoming – makes up a third of Anchorage overnights. Considering the region's overall population, Westerners visit Anchorage at far greater rates than people from other areas of the country or overseas markets.
Overnight visitors and age
The average Anchorage visitor may be 55, but don't write off youth. Younger travelers spent more nights in Anchorage and Girdwood on average. There's a solid, linear decline in average Anchorage/Girdwood overnights with age; the older visitors are, the shorter the stay. Don't go chasing a whole new audience just yet, though; travelers age 50-69 make up more than half of all overnights. They may stay shorter, but there are still more of them visiting Anchorage.
In the end, the key indicator of likely visitation is probably not age so much as ability. High household income is a common uniting factor across a whole host of demographic differences. Across all age brackets, average household income for overnight visitors to Anchorage was near or above $100,000.
The importance of fly/drive travelers
The study defines fly/drive travelers as those who spent at least one overnight in Anchorage, flew in and out of Alaska and used a rental vehicle – either car or RV – during their visit. And do they ever explore. It's not just that these fly/drive travelers do certain activities more they do all activities more. They stay longer, and they index above average for participation in all the activities included in the study. They likely spend more. Fly/drive visitors make up only 33 percent of Anchorage overnight visitors, but are responsible for an outsized number of overnights, 41 percent. They also tend to have shorter booking/planning windows than other segments, suggesting opportunities to attract them closer to the start of summer.
Find one, you'll find all three
Worried you'll now have to pursue younger, fly/drive, or Western visitors? You're likely speaking about the same person. The three buckets may seem at first glance to be wholly independent audiences, but there's an incredible amount of overlap. Western U.S. travelers are more likely to be flying in. Fly/drive travelers tend to be younger, and young travelers are more likely from the West. These interlocking relationships hint at a correlation for a big piece of visitation and begin to paint a more complete picture of who will be interested in Anchorage and Girdwood in the years ahead.
Read the full Anchorage overnight visitors report
Source: Visit Anchorage
Visit Anchorage's 2018 Board of Directors
Members include: Charlie Grimm, BAC Transportation; Corey Hester, Alaska Airmen's Association; Lisa Kruse; Phillips Cruises and Tours; Tom Marriage, Sockeye Business Solutions; Steve Rader, Hilton Anchorage; Dale Wade, Alaska Railroad; and Di Whitney, Alaska Wildlife Conservation Center.