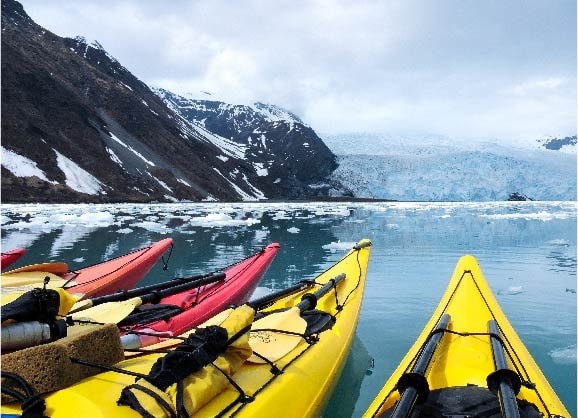 As it returns to Alaska for the first time in more than two decades, Windstar Cruises has assembled a new Signature Expeditions program that kicks off in May of 2018.
Windstar's Signature Expeditions program is designed to provide guests with dual opportunities for immersive and instructive enrichment onboard and off, led by an expedition team of five on every Alaska cruise. These geologists, glaciologists, marine biologists and other experts will give commentary and interact with guests. They will also lead outings aboard a new fleet of six Zodiacs and expedition kayaks, as well as take guests on hikes. Whale watching will be a star attraction, as "whale season" in Alaska coincides with Windstar's time sailing in the region.
Here are some of these new expeditions:
Misty Fjords Kayaking: On a two-and-a-half-hour kayak expedition through Misty Fjords National Monument, guests will see 3,000-foot, glacier-sculpted cliffs with numerous waterfalls cascading down the cliffs and wildlife, like bald eagles and, perhaps, brown and/or black bears and mountain goats. Throughout the forest, participants will find western hemlock, Sitka spruce and western red cedar.
Kenai Zodiac Tour: On a Zodiac tour around Kenai Fjords National Park area, guests will ride by tidewater glaciers that flow from the Harding Ice Field, possibly seeing a glacier calving while riding among ice that has calved. Participants may see harbor seals, black bears on the beach, bald eagles and puffins.
Wrangell Interpretive Walk: John Muir hiked here while using Wrangell as headquarters for his Stikine delta explorations. Participants are assured of wonderful views and a truly immersive forest experience with an elevation gain of about 400 feet. The hike will present good views of the surrounding mountains and the town and waterways below.
Kroschel Wildlife Sanctuary: This wildlife sanctuary near Haines sprawls over 60 acres and provides photo opportunities of orphaned Alaska animals living in their natural habitat. The venue is overseen by caregiver Steve Kroschel, a real-life Alaska Dr. Doolittle. Kroschel was born and raised on a farm in Northern Minnesota and has worked with wild animals in a variety of ways since childhood, including producing his own wildlife documentaries and working on films for Disney and National Geographic.
Taku Lodge Feast & 5 Glacier Seaplane: The seaplane-only access to Taku Glacier combines true wilderness with glacier-view dining. From Juneau, a classic DeHavilland seaplane will fly through the Tongass National Forest, over five glaciers and land on the Taku River at the historic Taku Lodge where travelers will savor a menu of homemade local fare.
Fishing the Inside Passage: This scenic outing in Wrangell offers a chance to catch a variety of fish, from halibut to salmon. Any catch can be professionally processed and shipped home for an additional fee.
Windstar will also offer five-day, four-night, pre- and post-cruise Alaska land tours that either begin or end in Seward and include Anchorage, an overnight in Talkeetna, guided tour of Denali National Park and on to Fairbanks for a cruise down the Chena River.
Windstar's inaugural 2018 sailing in the region begins in May aboard the 212-passenger, all-suite Star Legend, with the sailing season continuing through September 10. The itineraries include less-visited ports, like Metlakatla and Wrangell, as well as scenic cruising among the glaciers, including Tracy Arm and Misty Fjord.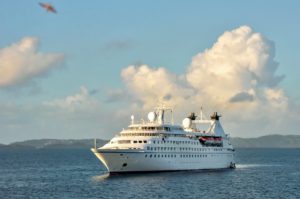 Star Legend
CAPACITY: 212 guests
SUITES: 106 suites, all outside with ocean views
OWNER'S SUITES: 2, with private verandas
CLASSIC SUITES: 4, with private verandas
BALCONY SUITES: 36, with French-style balconies
OCEAN VIEW SUITES: 64, with picture windows
DECKS: 6 guest decks
CREW: 153 international staff
SHIP'S REGISTRY: Bahamas
LENGTH: 440 feet (134 meters)
DRAFT: 16.5 feet (5 meters)
BEAM: 63 feet (19 meters)
TONNAGE: 9,975 gross registered tons (grt)
PROPULSION: Twin propeller, driven by four Bergen marine diesel engines
SPEED: Cruising speed 15 knots
Click here to watch a video about Star Legend and its sister ship Star Breeze.