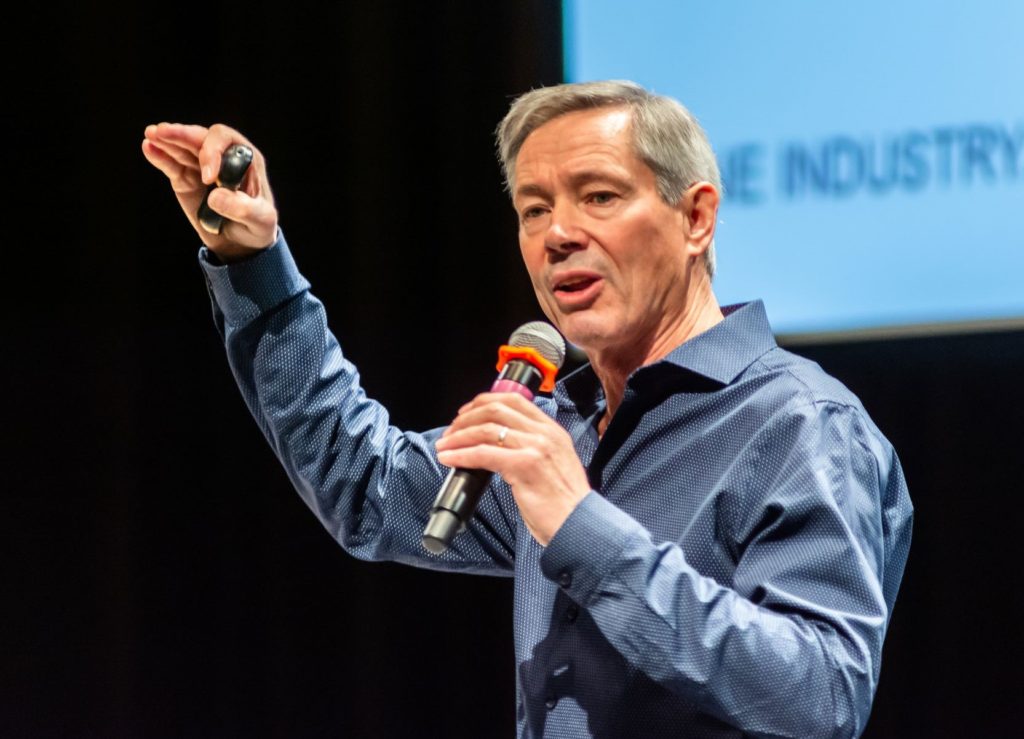 EDITOR'S NOTE: John Binkley stepped down from his role as president of Cruise Lines International Association Alaska (CLIA Alaska) last month to devote more time to his family business. Seatrade spent time with John during his last formal duties at the Alaska Travel Industry Association's annual convention.
By Anne Kalosh
A prominent and respected figure in his home state, Binkley has led CLIA Alaska and its predecessor, the Alaska Cruise Association, since 2007.
He has been instrumental in the growth of Alaska's cruise business and involved in many high-profile issues. A recent example was the amicable settlement of a long-running lawsuit between CLIA Alaska and Juneau over how passenger fees may be spent.
"I'm excited for the next chapter in my life and very proud of what we have accomplished in Alaska," he told Seatrade Cruise News.
Ward Cove project
As earlier reported, Godspeed Inc. of Fairbanks, a tour business owned by the Binkley family, is involved in building a cruise ship dock at Ward Cove, near Ketchikan. Binkley will be heading the project and working for his adult children, who have run the family's companies for the past 14 years.
Recently Godspeed was among the bidders for waterfront property in Juneau that went to Norwegian Cruise Line Holdings.
As Binkley told Seatrade Cruise Review earlier this year, he sees many economic growth opportunities for Alaska communities beyond the major cruise ports, and he forecasts greater cruise line investments to handle larger ships.
Expanded roles for Mike Tibbles and Lanie Downs
Binkley is not being replaced, but consultant Mike Tibbles and Lanie Downs, senior director of community relations and public affairs, will remain and expand their roles with CLIA Alaska, reporting to Mike McGarry, senior vice president of global government affairs and serving as the secretariat for North America/global.
"John, along with CLIA cruise line leaders in the Alaska market, led the tremendous growth there, which resulted in more than a million cruise passenger visits annually," CLIA President and CEO Kelly Craighead said.
Binkley 'set the gold standard'
"John's leadership in Alaska set the gold standard for best practices in government and community relations, and the development of sustainable solutions for local stakeholders and cruise lines," Craighead continued. "We will miss John tremendously, but we look forward to crossing paths with him frequently."
Calling Alaska a "vitally important and essential market for cruising," Craighead added, "Going forward, we are excited that Mike Tibbles and Lanie Downs will expand their responsibilities in the region, and with CLIA Global, ensuring the North American market is integrated more holistically in order to deliver value-driven efficiencies for our members while continually raising the bar on performance."
Tour business, public service
A third-generation Alaskan, Binkley grew up in the family tour business operating sternwheel riverboats. He saw firsthand the growth of the tourism industry from its humble beginnings during the 1950s and '60s to the dramatic growth of the 1980s and '90s, when the larger cruise ships started visiting.
Binkley has served as the CEO of his family's now fourth-generation tourism business. In 1977, he and wife, Judy, founded and operated a tug and barge business in Western Alaska. There, Binkley began his public service, first as a member of the Bethel City Council in the early 1980s, then representing the region in the Alaska House of Representatives. He went on to the State Senate, serving as co-chairman of the Finance Committee.
Binkley also chaired the Alaska Railroad Corp. for 13 years and has continued as a director since 1995. He serves or has served on many statewide boards, including Doyon Tourism Board, Big Brothers Big Sisters, the Alaska Wildlife Conservation Center, Alaska Travel Industry Association and many other corporate and nonprofit groups.
Source: Seatrade