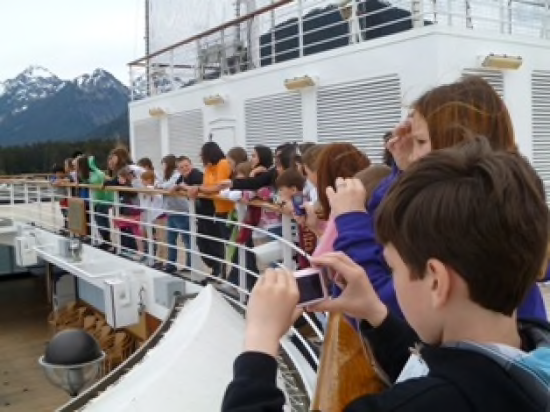 For years, the Oosterdam has invited Sitka students to come aboard, tour the ship and have lunch in the dining room. Laura Rogers, Sitka High School principal sent the following letter to the editor to thank Holland America for its efforts.
"Like all of the City and Borough of Sitka, Sitka High School benefits from tourists' tax dollars, but we are also grateful for the direct support we receive from Holland America. In the last year, Holland America has continued to sustain the SHS Holiday Shootout and has awarded $16,000 in scholarships to our graduates. They have been guest speakers in our classrooms and have helped our students understand how business, industry and local governments can work together to build economies. In addition, they provide support to Region V athletics and help ensure students throughout Southeast are able to participate in extracurricular activities.
"This year, Holland America collaborated with SHS to offer a wonderful Freshman Orientation experience on board the Oosterdam where they provided lunch, information and a glimpse into the cruise industry for our students. The luncheon, served in one of the formal dining rooms, was clearly designed to help students recognize that they had crossed an invisible threshold toward adulthood.
"Port Manager Fred Reeder delivered an eloquent but direct message to our students about the characteristics that embody success in every profession. Cruise staff then led the students on a tour of the ship shared background information about their own career paths and what they enjoyed most about their current jobs. Unfortunately, our own time constraints left the students wishing they had time to hear more, always a desirable outcome.
"I would like to thank Holland America, again, for their kindness, generosity and continuing support our students. "