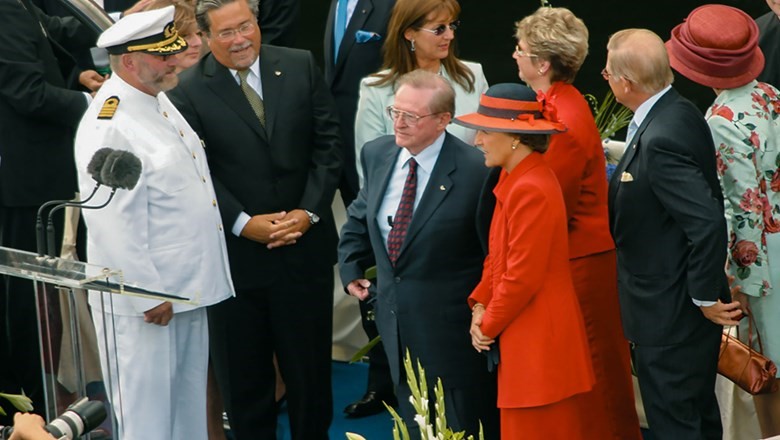 A. Kirk Lanterman, who helped keep Holland America Line (HAL) alive in the 1980s and later built it into one of the cruise industry's most recognized brands in a 30-year career at the helm, has died.
Lanterman, who was 87, died surrounded by family at his Seattle home.
His legacy includes a fleet of 15 ships with distinctive navy-blue hulls, a reputation as a tough but fair boss and a legion of HAL enthusiasts around the world.
"When Kirk took over, Holland America Line was a small, barely profitable company with three ships," recalled Micky Arison, chairman of Carnival Corp., which in 1989 made HAL its first big acquisition.
Lanterman "turned the brand around and into one of the most successful and innovative cruise companies in the world," Arison said. "His contributions have truly been significant, and he will be missed."
A native of North Dakota, Lanterman earned an accounting degree at the University of Washington. He began his travel career at Westours, a tour operator in Alaska, as vice president of finance.
By 1979, when HAL acquired a full interest in Westours, Lanterman had become president. He was elevated to president of the combined companies in 1983 and moved HAL's headquarters from New York to Seattle, closing the book on its transatlantic past.
"He was a formidable leader and a key driver of the growth of our company and in positioning Holland America Line as a premium cruise leader," said Stein Kruse, who became HAL's CEO upon Lanterman's retirement in 2004.
"His personal strength and commitment to the financial vitality of the company are legendary, and he is credited with successfully steering the company through both economic hardships and tremendous growth," Kruse said.
Lanterman served two terms as chairman of CLIA and funded a state-of-the-art center for research and investment analysis at the University of North Dakota. In 2003, he was made an Officer of the Order of Orange-Nassau, the Netherlands' highest civilian honor, by Queen Beatrix of the Netherlands.
Source: Travel Weekly