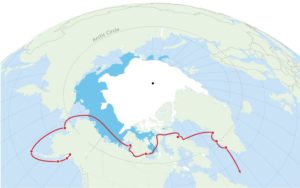 Over 110 years ago, Norwegian explorer Roald Amundsen took three years to navigate his small, gasoline-powered ship across the icy northern rim of the Western Hemisphere.
It will take the Crystal Serenity less than a month.
The Serenity left Seward Aug. 16 on a 32-day, 900-mile journey through the Northwest Passage.
The loss of Arctic ice cover in recent years has transformed the waters along the coasts of Canada and Alaska into a navigable route, increasing shipping and commercial traffic. (Click here to see the ice conditions in real time).
But less ice doesn't necessarily mean worry-free travel. Plowing a mammoth cruise ship big enough to house a casino, a movie theater, six restaurants and a driving range through these polar waters will be no easy feat.
"The Northwest Passage is full of islands and is quite circuitous. You have to work through not just the ice but the islands as well," said Roger Rufe, former vice admiral of the U.S. Coast Guard, on a press call.
"There are poor nautical charts in the Arctic as a whole because it hasn't been surveyed for depth or hazards for years."
That's why executives at California-based Crystal hired a seasoned expedition leader to guide them through the planning process. For the past two years, Tim Soper, founder of Expedition Voyage Consultants, has worked with Crystal to assemble an expedition team and plan logistics for the trip.
The RRS Ernest Shackleton —a logistics and research ship operated by the U.K.-government-funded British Antarctic Survey – will escort the Serenity through the passage, providing ice-breaking assistance as necessary. It will also carry two helicopters to scope out ice in the ship's path and provide emergency support, oil-spill containment and, of course, sightseeing flights. The Serenity will burn a low-sulfur oil to reduce its carbon footprint.
"We have taken many extraordinary operational and equipment-related measures to ensure a safe voyage. The typical conditions along the planned route during the Arctic summer are substantially free of ice and within Crystal Serenity's safe-operating parameters," Crystal said in a statement.
Captain Birger J. Vorland, a Crystal Cruises veteran with 38 years' experience as a mariner, will be in charge of the historic voyage. Vorland has worked with passenger ships for 28 years and has sailed around the world, including the Arctic waters around Svalbard.
"People read a lot about the Arctic, how the region is changing, and it's an opportunity for them to see an incredibly special part of the world," Soper said. "It's a place that you need to experience to understand. The more people that experience it, the more ambassadors it has, which can only be a good thing for a region that we need to take care of."