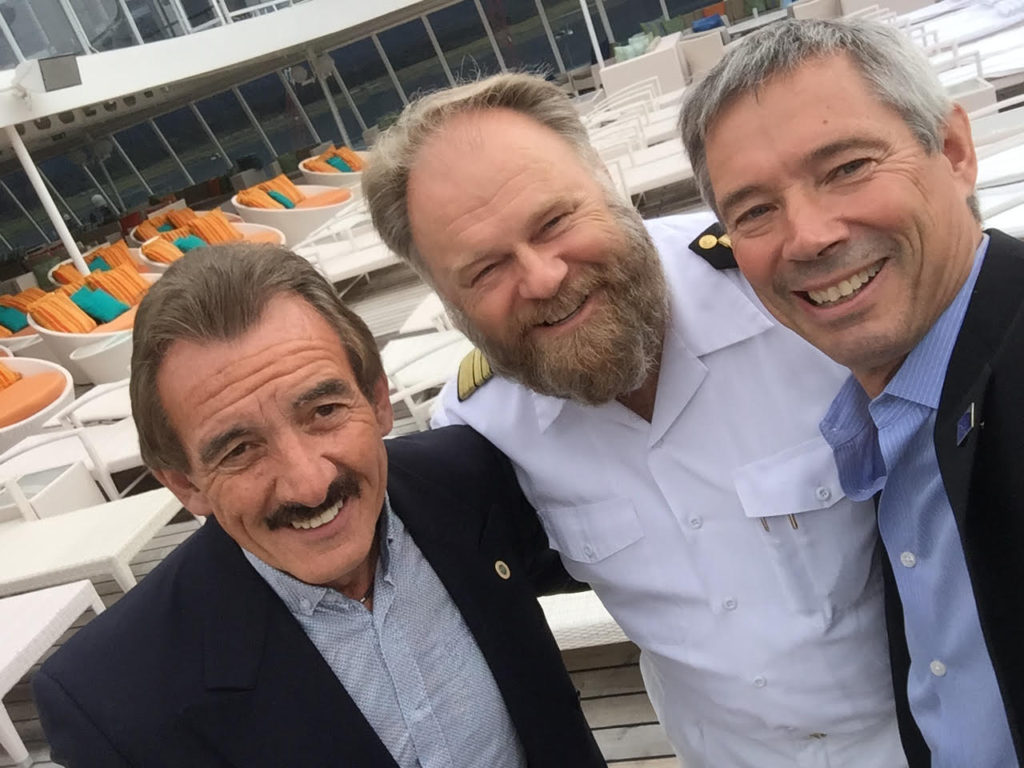 The captain of the Crystal Serenity now plying through the northwest passage offshore arctic Canada is a familiar figure to many in the Alaska cruise industry.
At the helm is Captain Birger J. Vorland, a Crystal Cruises veteran with 38 years' experience as a mariner, who has worked with passenger ships for 28 years and has sailed around the world including the Arctic waters around Svalbard.
"We worked for years with Captain Vorland at the Alaska Cruise Association, though it was hard to recognize him when I saw him aboard the Serenity in Seward," said John Binkley, president, CLIA Alaska.
"Like the great hockey players that grow their beards during playoffs until they win the Stanley Cup, Captain Vorland has grown his beard and plans to shave it upon completion of his historical sailing through the Arctic.  It is exciting to see him get back to his role as Captain and we wish him, the crew and passengers of the Serenity a magnificent journey."
As a Norwegian, Vorland is excited to be following in the footsteps of his famous countryman Roald Amundsen. Amundsen led the first expedition to traverse the Northwest Passage in his ship Gjøa, a 45-ton fishing vessel, between 1903 and 1906. He was also credited as the first person to reach both poles.
"Amundsen is a role model for everybody," says Vorland. "He was a determined man. He didn't give up, and he was an excellent mariner.
"The Northwest Passages was one of those impossible places that historically people couldn't get through. It is only as recently as the last decade that has it been possible to plan such a voyage with some certainty during that very narrow window at the end of summer."
Vorland and other ship officers have attended ice navigation training at a simulator in St John's, Newfoundland, where they gained experience on a 360-degree simulator that was mounted like an airplane simulator to provide realistic movement and vibration. They used a variety of vessel simulations including a ro-ro ferry with a similar layout to Crystal Serenity.
Two veteran Canadian ice pilots are on board to assist the bridge team and help manage the information provided by the additional bridge equipment.
The support vessel, the icebreaker Ernest Shackleton, also carries an experienced ice pilot and two helicopters for real-time ice reconnaissance and emergency support. In addition, it has supplemental damage control equipment, oil pollution containment equipment and survival rations for emergency use.
Vorland was involved with the planning of the cruise from the start, about four years ago. "It became clear to us early that if we are going to do this, we need to have some sort of escort ship. That decision was made early, and it was something we came up with on our own. We understood about the remoteness of the area and the lack of search and rescue, and we wanted to make sure we mitigated any potential risks.
"Let's say we cross the Pacific Ocean with one of our ships, that is also an extremely remote area, so you have a similar lack of those resources, but the perception is that it is not as remote as being up there in the Northwest Passage," he said.
As part of his preparations for the voyage, Vorland visited all the places along the way. "There's such a diversity of cultures which have been there for centuries," he says. "Everything is Arctic up there. You have the feeling of being in a very remote place, and I think our guests will be very fascinated by all the culture and how the people are coping. They probably have the shortest summer of all of us, even shorter than Norway, but they get along and get on with their traditional life despite the influx of our modern world."
Vorland says his main mission is to ensure the safety of the ship, 1,050 guests and 650 crew during the 32-day voyage from Alaska to New York. "Our goal was to establish the gold standard for anyone trying to do this with a large ship, and I think we have succeeded. That's the feedback we are getting from the various government folk we've been involved with."
Source: The Maritime Executive