The ocean and marine life inspired the work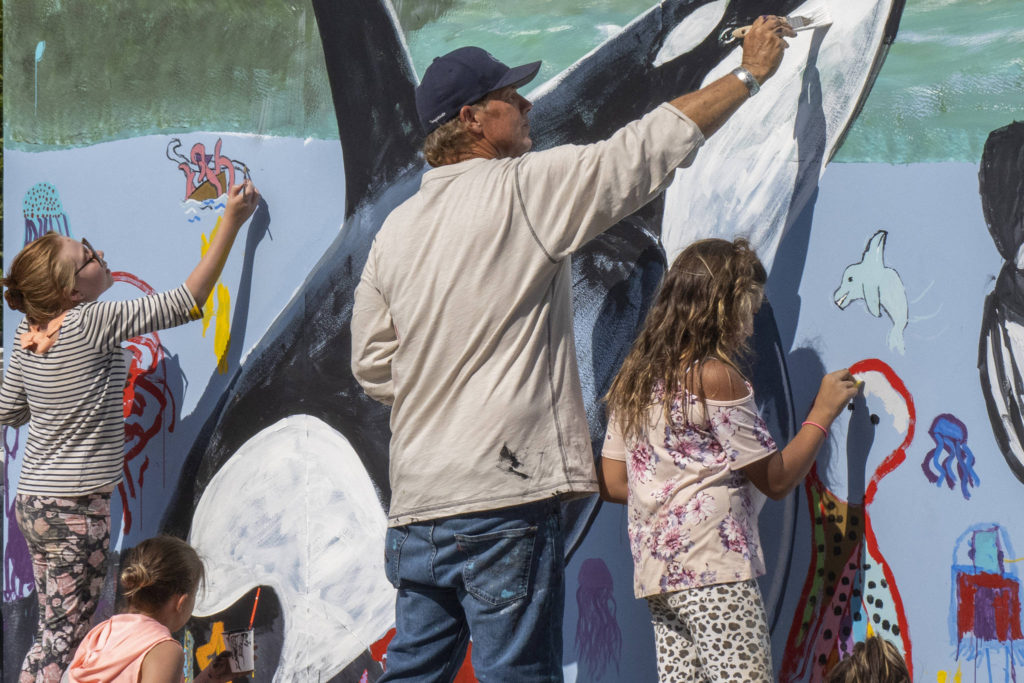 By Ben Hohenstatt,
Juneau Empire
Two artists and about 50 kids had their work cut out for them on a recent Saturday in Hoonah.
Wyland, a marine life artist based out of Laguna Beach, California, known by just his last name, worked with Hoonah formline artist Jeffrey Skaflestad and dozens of youths to paint an 8-foot-by-36-foot mural at Icy Strait Point over the course of several hours.
"I've painted over a million kids, and I count them, so I think it will be a million and 50 as of today," Wyland said in a phone interview.
The kids were participants in the Huna Heritage culture and art camp, which culminated in the painting.
"We had at least 40 each day participating, and we focused on Tlingit formline arts and crafts," said Amelia Wilson, Executive Director for Huna Heritage Foundation. "Yesterday, we did a picnic for all the campers and their family. Then today, we ended with this amazing opportunity to see this art, this mural just being painted before our eyes."
Wilson said it was consistent with the camp's focus of awakening children's internal artists.
A lot of that's been done through his Wyland Foundation that seeks to promote and protect the world's oceans through education, art and community events.
"Every kid that you reach when they have nature and conservation in their hearts and minds, they automatically carry that throughout their lives and they pass that on to their kids, so that's what the investments all about," Wyland said. "If you're going to protect the environment today, talk to us, if you're going to protect it for the future, you've got to get it into the hearts and minds of today's youths."
However, the Icy Strait Point project came to be through a coincidence caused by Norwegian Cruise Lines connection to both the artist and the tourist destination owned by Huna Totem Corporation and located near Hoonah, a village about 40 miles southwest of Juneau.
The cruise line has a partnership with Icy Strait Point, and Wyland painted the hull of the Norwegian Bliss.
While sailing on the ship, which visited Hoonah, Wyland came across whale footage that was shot by Mickey Richardson, Director of marketing for Huna Totem, Richardson said.
Wyland wanted to return and go whale watching with Richardson, they said, and the idea for painting a mural with input from local people during a return trip took form.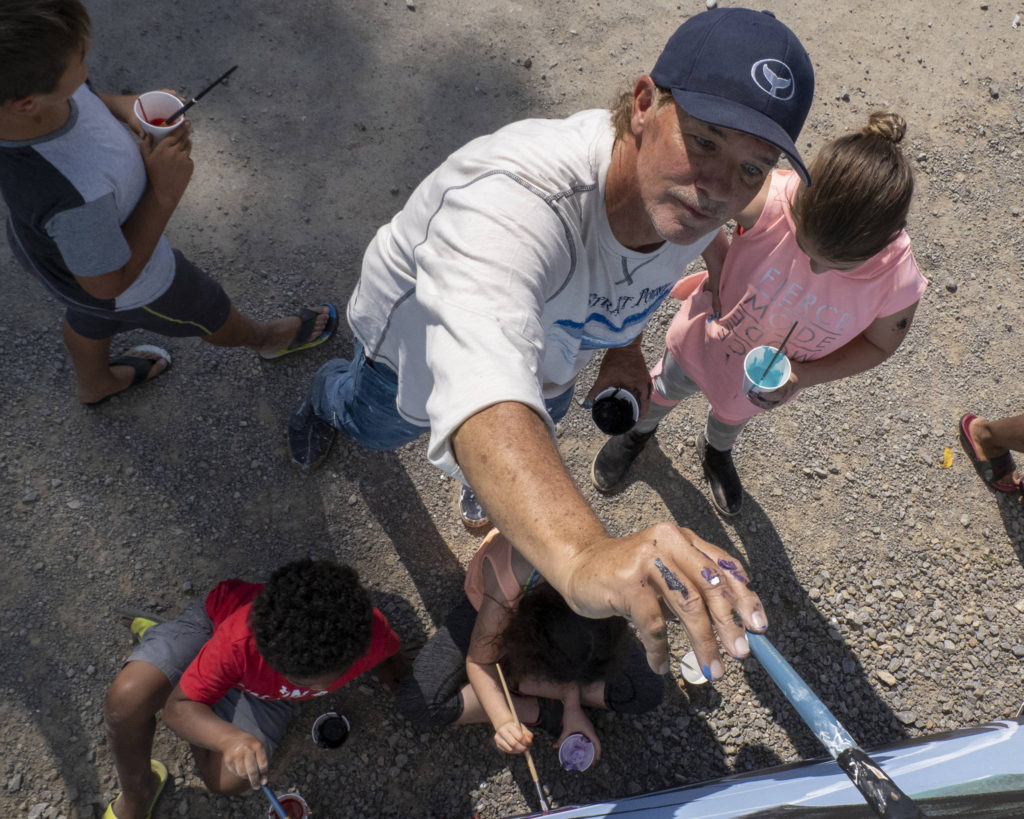 "These projects are unique, and it's a real collaboration with everyone," Wyland said.
Alexa Scarano, 10, who is from Juneau was among the children in Hoonah who participated in painting the mural. Her mom, Glory Scarano, is from Hoonah.
Alexa Scarano said over the phone she was considering painting a wolf as part of the mural.
Wyland did not have a particularly strict vision for the project, but he said he liked the idea of a piece that incorporated the views both above and below the sea's surface.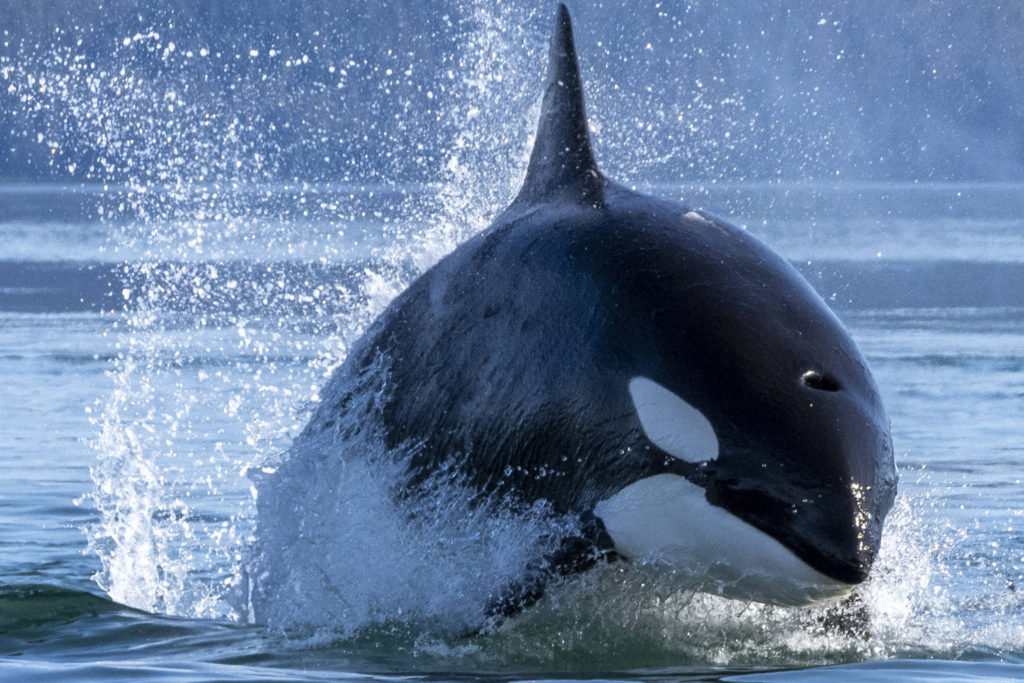 He said that design would allow for wolves, bears, salmon, kelp, whales and more to be incorporated into the mural.
Wyland was particularly excited about the prospect of painting whales and orcas, which he had recently seen in Hoonah.
"We had an unbelievable orca show that went on for about four hours," Richardson said of a recent whale watching experience.
The pair said they saw a pod of orcas hunt and feed on a large Steller sea lion.
"I don't know how many 64 gig cards I went through," Wyland said. "Hopefully, it will end up in the art that I make with the local kids here today."
Source: Juneau Empire