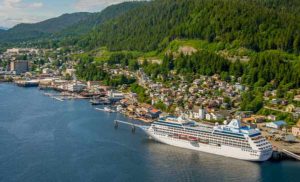 In response to the events of June 3 when the cruise ship Celebrity Infinity collided with the City of Ketchikan's Berth III facility, the City of Ketchikan hired the consulting firm of Moffatt & Nichol to perform an inspection and damage assessment and draft a salvage and repair plan.
Engineers from Moffatt & Nichol, and sub-consultant Alaska Commercial Divers, inspected the facility on June 4 and 5, along with city staff and contractors Pool Engineering and Turnagain Construction. Pool Engineering also performed some preliminary work on the evening of June 3, which helped stabilize several damaged elements of the facility.
The engineers completed the inspection, drafted the required scope of work and provided it to both contractors on June 5, with a request to provide a proposed cost and schedule for completing the repairs by the morning of June 6.
After reviewing the scope of work and the repair proposals with the engineers on June 6, the city manager elected to award an emergency repair contract to Turnagain Marine Construction in the amount of $928,580. Work began on June 7. The contract includes a requirement for the facility to be repaired and useable no later than July 5, which is four weeks from the commencement of the work.
Until the Berth III facility is fully repaired, it is expected that ships scheduled to moor there will be directed to one of the other three berths, if available, and to lighter passengers to the vicinity of Berth III if possible when no other berths are available.