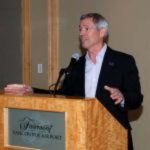 It takes a huge, coordinated effort to keep Alaska competitive.
"We all depend on each other to deliver a good-quality product at a reasonable price to be competitive in a worldwide market," CLIA Alaska President John Binkley told guests at an April 19 Vancouver, B.C., reception to celebrate the start of the 2016 Alaska, Pacific Northwest cruise season.
"Some 999,600 visitors came to Alaska on cruise ships in 2015," Binkley said. "This year, we will surpass a million."
Robin Silvester, CEO of the Vancouver Fraser Port Authority, which co-sponsored the reception, described the success of Vancouver as a cruise homeport for over 30 years as a testament to the collaboration of those in the room. He noted that the port's recent recognition as a "Best Destination Experience" by Cruise Insight Magazine speaks to the combined efforts of all of the port's tourism partners.
"We could only build these successes with the partners themselves," he said.
CLIA North West & Canada and CLIA Alaska, along with member lines, hosted the reception. The guests included Lynne Platt, U.S. consul general for British Columbia and the Yukon, and representatives from regional ports, tourism associations, business partners and community organizations.