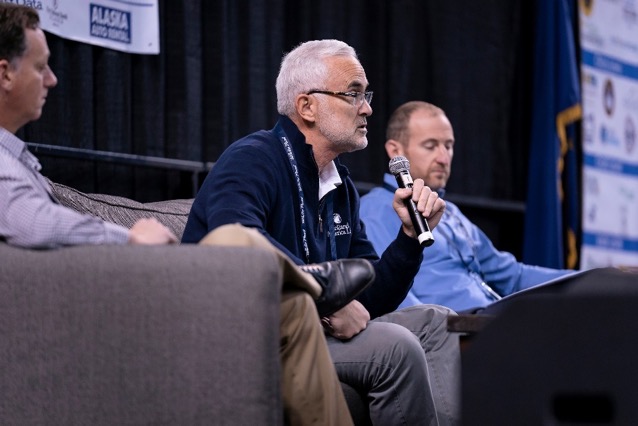 Experts predict an increase in travelers during the 2019 visitor season, which will have an impact on local communities. Most of the increase will come from the cruise sector.
A panel of industry representatives at ATIA discussed the infrastructure and growth needed to accommodate these additional guests to our state, and the timelines involved with bringing Alaska's cruise and land visitor industry forward into the next decade.
"It's about a three-year process from initial design to a dock being ready," said Dennis McDonald of Alaska Coach Tours as he addressed the crowd at the Carlson Center in Fairbanks.  "There's a real big puzzle to make it all work, and the cruise ships plan two to three years ahead. It's crucial to be in the planning process and communicating with carriers so they know what you'll have the capacity to receive and when ….  there is a statewide head tax, and each city thinks about how they use those monies differently, but they are designed to help with that kind of growth."
From the audience, tourism business owners expressed concerns about the capacity of port-city facilities, specifically accommodations, public restrooms, viewing areas and other facilities that make shore-time more enjoyable for guests. "It's hard to make decisions to invest money now, when you need to make choices in the next one to two years that won't show fruit for three to four [years]. Tour operators and cruise line directors need to work together to develop plans and make commitments so that there is capacity for the guests coming in," said Chris McGraw of Halibut Point Marine Services in Sitka.
"We have space," McGraw continued. "However, as we continue to grow, we have to find a way to provide people the opportunity to experience that space as intended." Cruise lines have a strict itinerary to meet, which causes congestion and crowding in ports throughout the course of a regular cruise season. "How do you handle it when there's a 5,000-passenger ship but there's an experience that only allows for 20 people?"
Charlie Ball of Holland America Group asked the one question that appeared to be on the entire assembly's mind. "Everyone wants to experience something unique, but you have to have the capacity to entertain and engage those people. If cities aren't seeing the benefits of tourism and the travelers aren't getting a good experience out of it, then nobody wins."
"It benefits your community to try and attract longer itineraries because they maximize the time in port, which benefits your economy," McDonnell added. "The customer tells us when they want to travel. There's a much higher demand for weekend ships – as more demographics come to market, the more departure dates will be added due to demand." Ten- and 11-day itineraries, it seems, allow for more time in port and less strain on tour operators. More time in port allows for a more diversified experience, which stabilizes the congestion a little and allows for a more pleasant experience overall.