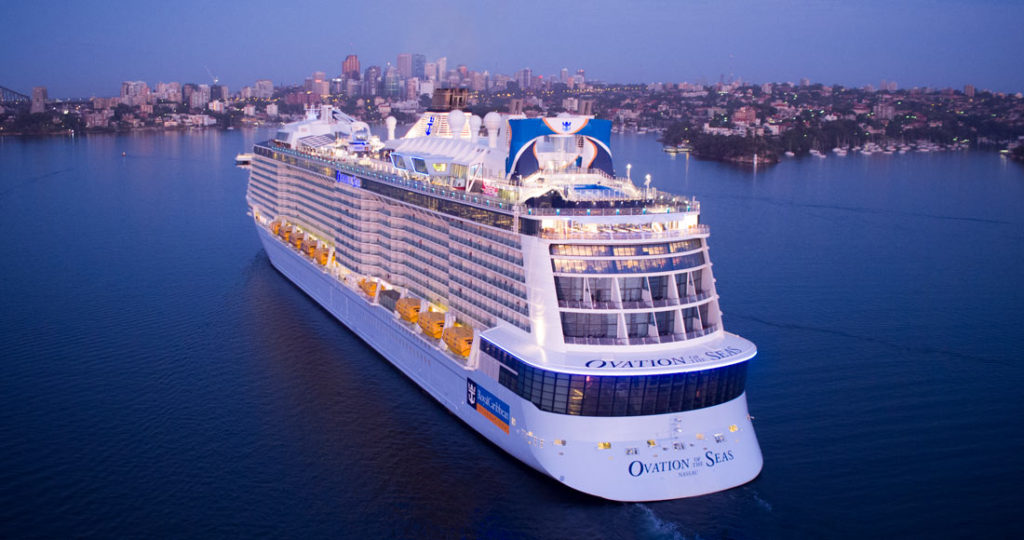 Get ready for the battle of the megaships in Alaska.
Royal Caribbean is re-deploying one of its newest, biggest vessels, Ovation of the Seas, to the Last Frontier for the summer of 2019.
The announcement comes as rival Norwegian Cruise Line prepares to send a giant new ship of its own, Norwegian Bliss, to the state.
At 168,666 tons, one-year-old Ovation is tied with two sisters as the world's fifth largest cruise vessel. It can hold nearly 5,000 passengers. Scheduled to debut in April, Bliss is expected to be roughly the same size.
Currently based year-round in Asia and Australia, Ovation will operate seven-night sailings to Alaska out of Seattle after re-positioning to the city from Sydney, Australia, in the spring of 2019. Bliss will also be based in Seattle.
While mega-size cruise ships as big as 226,963 tons have appeared in the Caribbean and Europe in recent years, nearly all of the cruise vessels spending summers in Alaska still measure under 100,000 tons. This year's size leaders in the state were Royal Caribbean's 138,194-ton Explorer of the Seas and Celebrity Cruises' 121,878-ton Celebrity Solstice. The largest ships Alaska cruise giant Princess had in Alaska this year — Ruby Princess and Emerald Princess — are 113,561 tons.
Ovation will take the place of Explorer in Alaska. A second, smaller Royal Caribbean vessel that spends summers in the state, the 90,090-ton Radiance of the Seas, will remain in the market.
Ovation's coming move to North America will mark a notable shift in its focus. Completed just 19 months ago, Ovation initially was touted as a ship custom-designed for the Chinese market that would spend much of its time based near China's capital, Beijing, catering to local vacationers. At the time, demand for cruises in China was booming. But demand for cruises in China has softened over the past year, even as interest in Alaska cruises has soared.
Royal Caribbean is just one of several cruise lines that have been trimming capacity in China. Earlier this year, Princess Cruises announced its new ship custom-built for the Chinese market, Majestic Princess, would redeploy to Australia for nearly eight months of the year.
Still, Royal Caribbean remains committed to the Chinese market, Royal Caribbean Chairman Richard Fain told investors during a conference call regarding third-quarter earnings. He noted that a new sister to Ovation scheduled to debut in 2019, Spectrum of the Seas, will be based in China.
Source: USA Today